A classic reunited at the NEC Classic Motor Show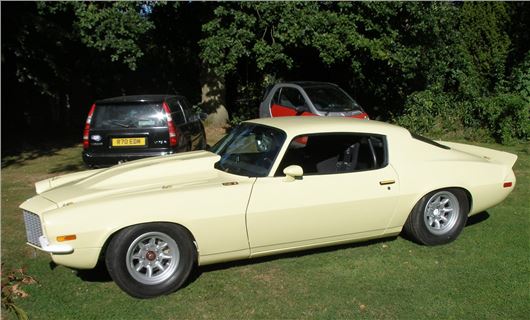 Published 08 November 2013
The theme for the NEC Classic Motor Show is 'classics reunited', and Heritage Classic Car Insurance is showcasing a fascinating example of this - a 1972 Chevrolet Camaro.
This prime slice of pure American muscle in the form of a 1972 Chevrolet Camaro, which was reunited with its owner, John Gorbould, after a decade apart. 
'Back in 1990 my best friend Tony Dickson, who knew everything about Auto Americana, decided to build a circuit race car called Money Hungry Too as he used to campaign an earlier Camaro dragster known as Money Hungry,' said John.  'I, at that time was going to race a Vauxhall Astra GTE but decided to throw my lot in with Tony. Well we were both pretty busy so while a lot had been done to her she was nowhere near finished.
'Then Tony passed away in 2002. He left it to me in his will but as it was his car and I was his assistant, I knew nothing about Auto Americana and didn't have the facilities he had. I sold it to a chap who promised me he'd finish it.'
Ten years later John got a phone call. 'The guy I had sold it to said he was never going to finish it so would I like to buy it back." John had always regretted his decision, so was quick to take up the offer – "I thought about it for less than a nano second – thinking I brought back what I sold. He'd sold the engine, gearbox, lost most of the parts that went with her and left her in a cold draughty damp shed for years.'
John's ploughed hundreds of hours work into the Camaro, as well as a huge amounts of money but at last he has returned the car to full race condition. The car can be found on Heritage's stand in Hall 19 on stand 19-400.
The NEC Classic Motor Show runs from 15-17 November 2013. Tickets cost from £18.50, for more information on the show visit www.necclassicmotorshow.com.
Classic Motor Show 2013
Comments
Author

Keith Adams
Latest