How to buy and sell a classic car through Historics at Brooklands
Historics at Brooklands is one of the new-age classic car auction houses, established by private investors in late 2009 and headed by Edward Bridger Stille, who has enjoyed a long career and recreational interest in classic cars. He formerly worked at London auction house Coys.
Quarterly sales, all held at Brooklands, a place of mythic resonance for petrol-heads the world over, generally comprise 100 or more cars, preceded by a selection of automobilia. Car catalogues offer a cross-section of the market, centring on the mainstream, with pre- and early post-war machinery, latter-day prestige and performance cars and competition cars adding variety. Several sales have also featured cars used in major film productions, most notably the 56-strong fleet of classics from the set of Captain America – The First Avenger.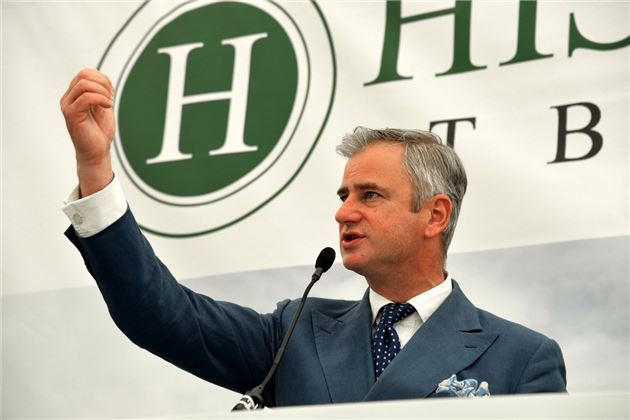 How is my car valued?
The team at Historics boasts plenty of experience and aims to visit every car prior to valuation.
How many sales does Historics have a year?
It holds five major sales, at Brooklands Museum, Mercedes-Benz World and Ascot Racecourse with, typically, 150 fine and varied classic car consignments spanning nine decades and a wide range of values
Is there a seller's fee?
There is, and Historics say they are proud that it is still one of the lowest in the premium auction marketplace. Historics charges a seller's commission of 10%.
Is there a buyer's fee?
There is and, like the sellers fee Historics say that at 10% it is one of the lowest around.
Will they prepare my car for sale?
All cars entered at Historics are fully prepared. We have a professional team of valeters that clean and polish each and every car.
How long will they store a car after the auction?
Historics has an arrangement with its preferred transport, logistics partner, E.M. Rogers, who will collect, store and deliver any car nationally or internationally, sold or unsold.
How long after the auction will I have to wait for payment?
Every payment, right from the start, is always made within 14 days of the sale.
Are there any hidden charges? (eg money handling, minimum commission etc etc)
Historics say none whatsoever.
How much does Historics charge to include a car in its catalogue and is there a fee if it's withdrawn prior to auction?
The Historics entry fee is £230 +VAT which includes professional photography. A spokesman said, 'Withdrawal is a little complicated; if a lot is withdrawn through no fault of the vendor, we will always work with him/her to sort out any issue. However if we have a contract and the catalogue has gone to press, we do charge a percentage of any lost commission.' Order the catalogue here.
When is there the opportunity to examine the consignments before auction? 
There are  two full viewing days immediately preceding each auction when the Historics team are on hand to discuss all consignments and history files can be thoroughly examined. Historics also hosts free auction seminars on the same days to aid understanding of the auction process.
Will the auction house transport the car to the buyer after purchase?
Historics has a number of specialist auction partners including transportation, logistics and storage specialist, E.M. Rogers, who attend every sale and will make transport and/or storage arrangements for buyers immediately following their purchase.
How quickly are the results published after an auction?
Full auction results are published on the Historics website the day following the sale.
Does you offer financing to purchasers?
Historics is the first classic car and motorcycle auction house in the world to offer finance to clients and to be authorised and regulated by the Financial Conduct Authority. This unique service is available through our partner, Classic & Sports Finance, the UK's leading classic car finance specialist.
Can insurance on a purchased car be arranged on the day of the auction?
Yes - to make it as convenient as possible for buyers, Historics offer on-the-spot insurance at all our auctions in conjunction with partner, Lancaster Insurance, which attends every sale in person.
Latest cars for sale at Historics Auctions
Ask HJ
How should I go about selling my 1972 Porsche 911?
What advice can you give regarding how best to sell my 1972 barn find Porsche 911 E Lux 2.4 Coupe, RHD, mileage circa 53,000?
Up until very recently this sort of thing was gold dust for classic car auctions. You're a bit late for the next Historics on 8 July and you've missed Brightwells tomorrow. But all the good auction houses get far better money for barn finds than you would get by advertising and selling it yourself. There's H&H, Silverstone Auctions, Bonhams. All have actions approximately every couple of months.
More Questions
Buying At Auction
More Buying Advice
Compare classic car insurance quotes and buy online. A friendly service offering access to a range of policies and benefits.

Get a quote