What is the cheapest Classic Car Insurance for a Nissan Figaro?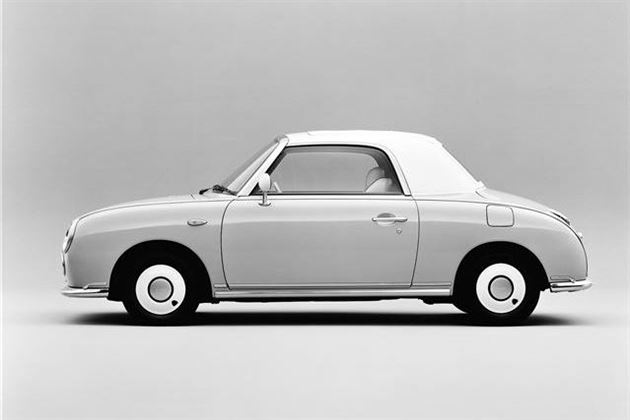 It's cute and cudly and it doesn't go remotely fast enough to bite you - yep, the Nissan Figaro is perfect if you want retro looks with all mod cons. Built to cash in on Japan's 1990s classic car boom, the Figaro comes with leather seats, air-con, CD player and fabric roof.
Can I get it on a classic policy?
The Nissan Figaro is considered a classic by most insurers.
What are the benefits?
As well as being with a specialist insurer, a classic policy will often offer benefits such as limited mileage discounts, free European cover, agreed valuation and club member discounts
How much are they worth?
When it comes to Nissan Fiagros, expect to pay around £6500 for the very best example from a dealer, while you should find a similar car in the classifieds for just over £5500. One that still needs a few jobs doing should be about £3500, while a runner in need of some TLC could be about £1250 . 
What to look for when buying one?
Rust. While the Figaro for sale might look nice in the pictures, underneath they can really rot. Go over the bodywork carefully and pay attention to any potential bodges (front wings, wheelarches are common grot spots).
How can I lower the cost of my insurance
Insurers often offer discounts if you're a member of a classic car club. When it comes to the Nissan Figaro, the Figaro Owners' Club (www.figaroownersclub.com) is widely recognised by most insurers. You could also get yourself a discount by keeping the miles down. If you've recently passed your test, consider taking a PassPlus, IAM or other driver qualification - some insurers will chip a bit off your premium if you do. Keeping your car garaged is also another good idea.
What about modifications?
Always tell your insurer about any modifications to the vehicle - some modifcations such as security systems or tracking devices can reduce your premium. But if your insurer knows your car is modified, you'll most likely get like-for-like cover so you won't be out of pocket if you need to make a claim.
Insurance quotes
The following fully-comprehensive insurance quotes are based on a 1991 Nissan Figaro owned by a 40-year-old Cambridgeshire-based man in full time employment. He is named driver on another car and has clean UK licence. Mileage is limited to 3000 a year and the car is kept garaged overnight.
Compare classic car insurance quotes and buy online. A friendly service offering access to a range of policies and benefits.

Get a quote