Classic car insurance for shows, track days, wedding and hire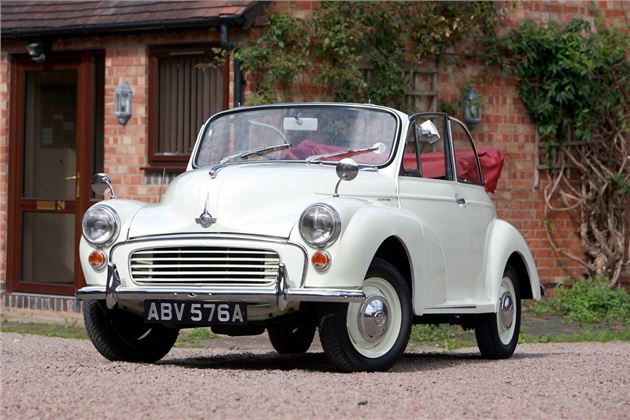 Make no mistake – a classic car makes a great wedding car. They're an exccellent way of making a special day that little bit more special. And you don't have to own a Rolls-Royce, a Riley, or a Bentley to make your classic a wedding car.
There's plenty of demand for non-traditional weddings cars. We've heard of people heading to the church in a Harry Potter-inspired Ford Anglia 105E, or the Reliant Supervan from Only Fools & Horses. Volkswagen Type 2 camper vans, Morris Minors, Fiat Multiplas… even Ferraris and Lamborghinis. Basically, anything goes.
Does my classic need to be licenced for weddings?
In a nutshell, any classic car can be a wedding car. You only need it to be licenced if you're planning to carry more than eight people, which means you're free to carry the girls who want to do a wedding inspired by Seven Brides for Seven Brothers.
Do I need special insurance to use my classic as a wedding car?
But whether you're doing it as a one-off favour for a mate or thinking of it as a handy way of easing into your retirement, you will need specialist cover – normally called Hire and Reward. Unless you're planning to do it full time, you're unlikely to need full business cover.
Most classic car insurers can extend your policy to cover weddings (and the emerging prom market) for a small extra fee. Alternatively, they can build you a bespoke policy if you're thinking of putting your fleet to good use full time.
How much does wedding cover cost?
The cost of covering your classic will vary. It will depend on what vehicle you have, how much it is worth, it's performance, where it's based, and how much experience you have of driving. Premiums can start from a few hundred pounds and increase from there.
Which ever insurer you're with, make sure it includes liability cover, breakdown and legal expenses as standard.
Some insurers do offer free cover for a small number of paid weddings a year, but even paying a small fee to extend the cover is usually worthwhile. You'll need to notify the insurer in advance of each wedding to make certain that cover is in place, though.
What if I want to hire my classic out for film and TV work?
If you find that you're getting more and more interest from people borrowing your classic, you may find it difficult to get cover. However, not many insurers will provide cover for film and TV work, or still photography like fashion shoots.
The reason? There are just too many things that can go wrong. So you'll need to make sure the company that wants to hire your vehicle has public liability insurance.
Can I use my classic car for the school prom?
One area that's seen increasing demand for classics on call is the emerging prom market. While the law allows an exemption for weddings and funerals, it's different for proms.
The law states that both car and driver must be specially licences by local authorities for the paid carriage of passengers.
Can I use my classic for commuting or business purposes?
Most classics are covered for social, domestic and pleasure use. Insurers won't exclude commuting or taking the car on a business trip, but they will charge you extra for it.
One thing to bear in mind is mileage. If you're on a limited mileage policy, you could quickly reach your limit if you're driving in and out of work every day or using your classic to visit clients. So while it might seem like a neat USP, there are practical implications.
What about track day cover for my classic?
More and more clubs are organising track days as part of their (hectic) social events calendar. And that can only be a good thing. No one's saying you have to go out there and be the next Nigel Mansell, but there is no better way to experience the finer nuances of your classic's handling than on track. After all, wouldn't you rather learn what lift-off oversteer is when all you've got is grass to hit? Rather than Armco, other drivers, ditches…
And if your car control is exemplary, then you'll be able to make the most of experience of driving around the twists and turns of some of the most legendary circuits on the map – Oulton Park, Goodwood and even Silverstone all offer private track days.
Track day cover can be a tricky one for insurers, so if it's something you're planning on doing a lot of you'll need to make sure that you won't invalidate your policy. Some insurers offer it as a free add-on, but specify that that the track day must be club organised. Other insurers charge for it, but go all out offering agreed value, covering modified cars, and including salvage retentions.
Ask HJ
Do you have any suggestions for obtaining a classic car insurance policy with an agreed value?
Do you have any suggestions for obtaining an insurance policy with an agreed value of £8000 for a 1999 Saab 9-3 Viggen? It has done 81,000 miles, is completely unmodified and hasn't been used for track racing.
You will struggle. I do agreed valuation engineer reports to assist people with agreed valuation insurance policies and your car is not worth £8000. As an engineer, I have to substantiate the value I place on the vehicle, so the insurer can then be confident they are correctly indemnifying. If a car is overvalued, they see it as a "moral risk" because they may end up paying out more than the car is worth. This is called "unjust enrichment". Contact the Saab owners club (http://www.saabclub.co.uk) and also try It's Classic Car Insurance (https://www.itsclassiccarinsurance.co.uk/?referrer=HonJohnClassic). I would suggest valuing it around the £6000 - £6500 mark.

More Questions
* Sometimes we show a link with a * next to it. It means that it is an affiliate link and as a result helps HonestJohn.co.uk stay free to use. It's tracked to us and if you go through it, it can sometimes result in a payment or benefit to the site.
Compare classic car insurance quotes and buy online. A friendly service offering access to a range of policies and benefits.

Get a quote