Classic Motor Show launches 'Classics Reunited' theme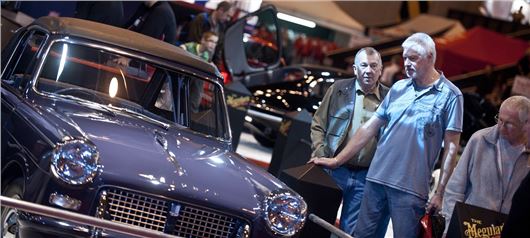 Published 11 June 2013
The theme for this year's Lancaster Insurance Classic Motor Show, held at the NEC, 15-17 November, will be 'Classics Reunited'. Celebrating 30 years at the NEC, classic motoring clubs from all over the UK will be invited to interpret the theme in their own way.
With over 250 classic motoring clubs showcasing their marques, some are bound to look for other ways to interpret the 'Reunited' theme. Some may choose to reunite famous or well-known racing cars with the drivers and teams that took them to victory while others may reunite the designers and workforce that created the car in the first place.
How about those cars that have been reunited with their original parts? There will be plenty of freshly restored cars on display as club members work round the clock to get their restoration project ready for its grand unveiling. And for those still working, there's the Restoration Theatre for expert advice and the Autojumble and Trader Village for the parts and spares needed to complete the job.
Classic Motor Show director Dan Nwaokolo said: 'How the clubs choose to interpret this year's theme is up to them but there is plenty of scope to unearth some really interesting stories. Most enthusiasts will have a marque they wished they had never let go, or maybe circumstances meant they had to sell. Where are those vehicles now and given the chance, would you buy it back?
The Lancaster Insurance Classic Motor Show is the UK's biggest classic motoring celebration. Spanning eleven halls, there will be an estimated 1500 cars and 350 motorcycles on display, ranging from the rare and exciting to pre-war and retro classics, the sublime to the ridiculous, and many more. Ticket prices start from £18.50 when purchased in advance, with two and three day passes also available. For more information visit www.necclassicmotorshow.com.
Classic Motor Show 2013
Comments
Author

Keith Adams
Latest