NEC Classic: Motor Show marks finish line for fundraising road trip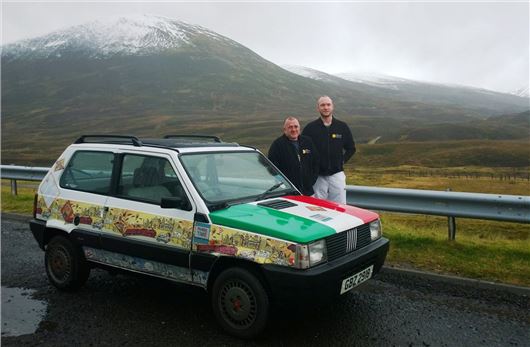 Published 18 November 2013
A trio from Northern Ireland finished a cross country road trip at the NEC Classic Motor Show on Friday morning. The team – Jim Magill, Alan Magill and Andrew Smyth, picked up the 1991 Fiat Panda (nicknamed Syliva) from Southampton and took it to Land's End, before travelling all the way to John O'Groats and back down the NEC Classic, all in aid of Spina Bifida charity Shine.
The car itself was in Southampton for an engine transplant, following its abandonment on another charity run. Owner Jim Magill said: "We wanted to turn collecting Sylvia from the garage into an adventure, to see parts of the country we'd never seen before and to do some good for a very worthy cause. You don't need to own something outrageous, but you can always do something outrageous!"
As you'd expect, the combination of old car and long trip wasn't perfectly smooth. Between Glasgow and John O'Groats – the hardest leg of the trip – the car showed signs of overheating. Thankfully it was an electrical fault causing the gauge to misread. That meant the final day of the journey, to the finish line at the NEC, went smoothly.
Summing up the trip and classic car ownership perfectly, Alan Magill said: "Classic Car ownership is about doing something special, it's not about the 9-5 commute, it's about making car ownership interesting and exciting!"
Andrew Smyth said: "Jim has been doing these trips for years- I've got involved a little more recently with our trip to Warsaw in a PandaVan last year. I particularly wanted to raise money for SHINE after seeing first hand the help and support they gave to friends who had a baby born with Spina Bifida."
If you'd like to support the team you can find full details on the Facebook page.
Classic Motor Show 2013
Comments
Author

John Slavin
Latest