Lots of temptation at Anglia auction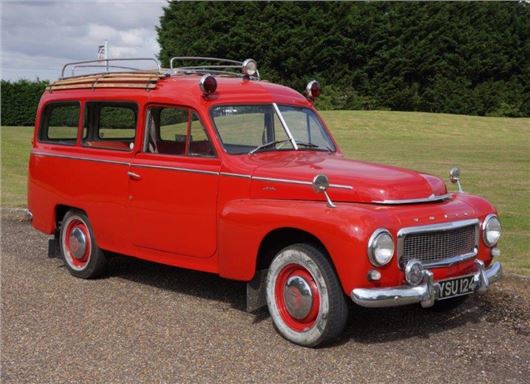 Published 08 August 2014
Anyone who thinks that a classic car auction is a stuffy affair where only big-budget buyers are welcome might want to take a trip to Norfolk on Saturday, 23 August, when Anglia Car Auctions holds its latest sale – with estimates starting from as low as £600, and with a huge variety of classics going under the hammer.
That lowest estimate of £600-800 belongs to a 19,000-mile Rover 100 Kensington SE from 1995, a car that would make an excellent first classic or daily driver. Also from the Rover stable is a 1989 820E Fastback, with a mileage of just 38,000, and a rather special 21,000-mile Rover P6B 3500 from 1973, an ex-museum car that's described as 'probably the most original surviving example of its type' and estimated at £9000-11,000.
Some of the rarities in the sale include a 1962 Rochdale Olympic (complete with Shorrock Supercharger) that's competed in LeJog and been featured in various magazines, as well as a 1958 Volvo 445 Duett that once belonged to the Swedish Fire Service and is now expected to fetch in the region of £5500-6500. Meanwhile, a 1971 Fiat Vignale Gamine (usually referred to as the Noddy Car) looks resplendent in bright yellow and very tempting at £11,000-12,000.
Fans of the ever-popular R107-series Mercedes-Benz SL range will find five examples going under the ACA hammer, while an American-import 280SL 'Pagoda' from 1970 is expected to perform particular well in the sale. Some of the Porsches being sold include a 1968 912, a '75 911S 2.7, an '86 928 S2 and a '91 964 Carrera 2 Convertible
Some of our personal favourites being sold by ACA include a 1975 Ford Cortina MkIII 2000E (£4750-5750), a 1978 Citroen GS Club (£2400-2700), a 1953 Austin A40 Van (£4000-5000) and a 1969 Minor-shaped Austin Pick-Up (£3000-4000). To find out all the latest estimates and to see the full list of classics entered into the August sale, go online to www.angliacarauctions.co.uk.
Comments
Author

Keith Moody
Latest