Porsche 911 964 (1989 - 1993)
Last updated 4 August 2018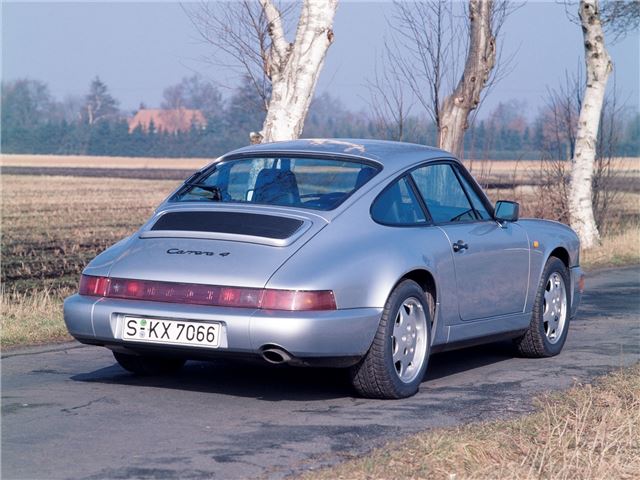 Improved performance, four-wheel drive, 1990s safety features
Misjudged styling, lacks the drama of earlier cars
Introduction
Porsche 911 Type 964 1989 - 1993
The 1989 Porsche 911 Carrera 4 - or Type 964 as everyone in the trade calls them - is a bit of an enigma. It's a 911 with technology to make it safer without sacrificing excitement, and yet it's still seen as the runt of the little. Perhaps it's because the 964 looked like any other 911, aside from the 1980s-standard integrated bumpers - but beneath that familiar styling was an entirely new structure designed to meet ever-changing technical and safety requirements.
In short, the 964 was a 911 incorporating lessons learned from the 959. With integrated bumpers and other wind tunnel-inspired tricks, the body was a great deal more aerodynamic, too. There was also the gadget man's dream of a rear spoiler that popped up automatically at 50mph (it almost seemed industry standard back then). The 964 was launched initially in four-wheel-drive Carrera 4 form, which sent out mixed messages, but the rear-wheel drive Carrera 2 followed a year later to the released a year later to a round of applause from Porsche fans.
In the end, the two-wheel drive car was by far the best-selling version. And during its short life, the 964 range was expanded to include coupé, targa and cabriolet models. As well as the all-important Turbo version.