Porsche 928 (1977 - 1991)
Last updated 3 April 2013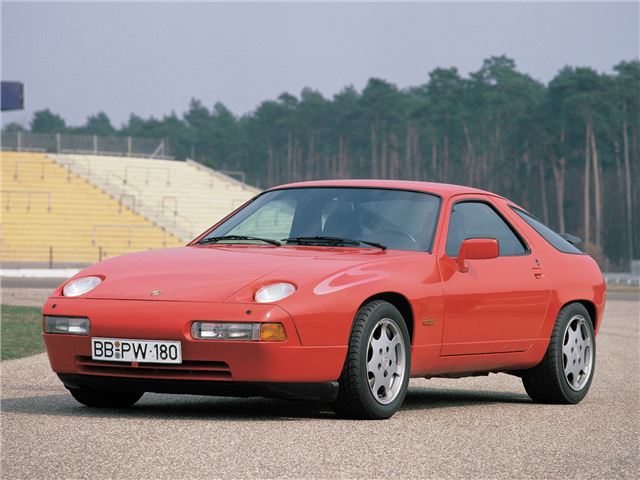 Sounds great, cruises effortlessly, looks timeless, 170mph for the final GTS version
Expensive to repair and service, values are low, which means many won't survive in the long term
Introduction
Porsche may have intended for the 928 to replace the 911, but things didn't entirely pan out that way. The 928 was a technical tour de force when it was launched, and impressed journalists so much that it won the European Car of The Year award for 1978. And that's because it looked like nothing else you could buy, and at the time looked like the future of all sports cars.
It's all-alloy liner-less V8 was attached to a rear-mounted gearbox (like the 924), and the galvanised and highly aerodynamic body had aluminium doors and bonnet plus body-coloured wraparound plastic bumpers – radical for its time. Porsche talked of it being an ethical sports car, so there were four seats, emissions from the low-stressed V8 were kept in check by advanced engine management, and performance was adequate, rather than sensational. And that marked it out as a firm-riding and slightly cramped GT car, rather than the sports car Porsche needed to replace the 911.
But Porsche set about making amends. The original 4.5-litre 240bhp engine was upped to 4.7 for the 295bhp 928S in 1980, and that finally cemented the 928 as a super touring car, rather than the car that lacked show to match its go - as it was at launch. Of course, by that time, the 911 was selling again, and that meant Porsche could move the 928 further upmarket, as well as make it increasingly powerful.
Two years later, higher compression and a new fuel-injection system raised that to 310bhp in the improved 928S (which was never called ther S2 for some bizarre reason). It also offered ABS as an option for the first time on a Porsche.
In 1987, and in an even greater technical tour de force than before, Porsche launched the S4. The V8 grew to 5.0-litres and now sported twin-cam heads with four valves per cylinder (this engine had actually been launched in the USA a year earlier). Power went up to 316bhp, but the big difference was low-end torque. The popular auto gearbox option was also now a Mercedes-Benz four-speed unit, and an intelligent cooling system featured louvres in the air intake that were computer-controlled to change their angle in line with coolant temperature; when closed, they made the car more aerodynamic.
Smoother front and rear bumpers lifted the looks, as did the rear spoiler - making the 928 look like a product of the 1990s, rather than the 1970s. But sales were slowing, and in order to keep it moving, Porsche followed up the S4, with the GT and GTS versions, each offering a little more power. By production's end in 1991, the Porsche 928 was a genuine 170mph car without the challenging handling of the 928.
Next: Specifications