Skoda Reviews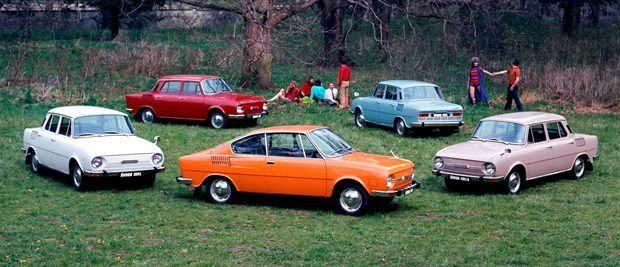 Once a motoring joke because of their poor quality and cheap prices, Škodas have enjoyed a major metamorphosis in recent years under the ownership of Volkswagen. Formed in 1924 in Czechoslovakia, the firm's pre-war cars proved popular and sold well - and were among the best cars built in Europe at the time.
After WW2, Škoda found itself behind the Iron Curtain, which meant it concentrated on low-cost machines. During the 1960s, it moved over to building quirky rear-engined cars based in the Renault Dauphine – at a time when many others were abandoning the layout – and continued for the next quarter of a century. VW took control in  1990, and revamped the range; Škoda today is a high-quality budget brand with a much-improved image.

Good:
Much better to drive than you might think
Bad:
A little too rare in the UK when new - and certainly so now

Good:
Art deco styling, and cool details now
Bad:
Rear engined saloon lacking in space and quality

Good:
Cute styling, cheap to run and service, is an instant talking point wherever you go, the joke image has pretty much gone
Bad:
Some parts are getting really tough to get hold of, lacking in quality and integrity

Good:
Good looking, light steering, interesting handling
Bad:
Too many people consider these cars a joke

Good:
Rear-engined handling characteristics, if that's your bag, usefully sized front boot, still relatively cheap, despite being near-extinct
Bad:
Hard to get spares, flimsy trim, repairs likely to cost more than the car is worth, in 2011, only eight left on the road and 22 on SORN

Good:
Great fun in the right conditions, quick enough to be interesting without the rearward weight bias completely overwhelming the chassis
Bad:
Ugly interior, cheaply made, non-believers just don't get them

Good:
Decent handling and quite practical, one of the more sensible bargain-basement choices
Bad:
Rust, flimsy trim and dodgy electrics, engines smoke unless the oil is changed frequently

Good:
Lightweight and lightening quick with razor sharp handling.
Bad:
No safety harness or roll-cage, short wheelbase can be snappy and unforgiving.

Good:
Satisfying drive and responsive engines. Decently built. Owners rate them highly. The vRS is quite pacy. Practical estate is better than the saloon. Taxi drivers loved the 1.9 TDI and many did 200k miles plus.
Bad:
Engines can develop problems. The attitude of badge snobs who should know better. Make sure it wasn't a taxi.

Good:
Reasonably well built and practical. Owners love them.
Bad:
Diesel feels nose heavy on standard tyres. Won't appeal to the image-conscious. Pop-up sunroof can leak.