Skoda 1000MB (1964 - 1969)
Last updated 21 March 2014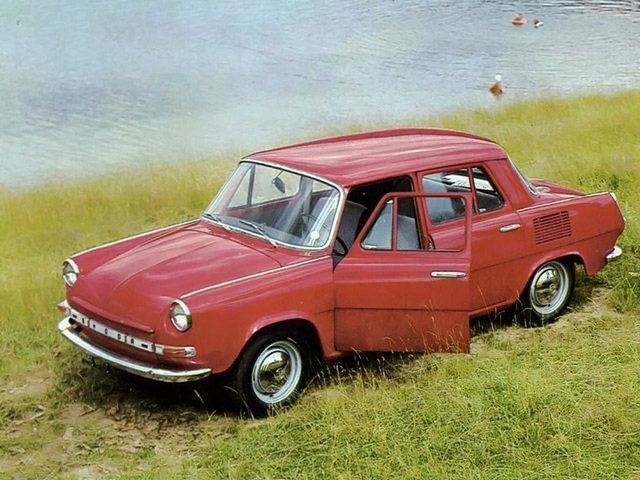 Art deco styling, and cool details now
Rear engined saloon lacking in space and quality
Updated 1 August 1969
Skoda 1000MB production ends
Very special examples of the ŠKODA 1000 MB and the two-door Škoda 1000 MBX model can be seen today at the new Škoda Museum in Mladá Boleslav, including the unique estate prototype. The vehicles also...
Introduction
A switch to rear engines and the introduction of a less traditional, and rather ugly new style, marked the beginning of a downhill slide in Skoda's fortunes, when the 1000MB made an appearance in 1964. After years of producing solidly dependable cars, Skoda turned to this Renault 8-inspired saloon in a move to modernize its products. The rear engined 1000MB was powered by an overhead-valve 988cc engine, using an aluminium cylinder block to help keep weight down, something that was necessary with the powerplant hanging over the rear axle.
The low compression ratio of 8.3:1 helped the engine to run on poor quality fuel, but it didn't do much for the car's power output, which was rated at 43bhp. From the outset, only a four-door saloon was available, but from 1966, a twin-carburettor two-door pillarless coupé was offered. Called the 1000MBX, very few were built as the cars were too expensive to buy. Although it only lasted five seasons, the 1000MB was replaced by the facelifted S100/110, and after that, the 105/120 Estelle, which lasted until 1990. The car became something of an international joke because it outlived its welcome by a considerable margin.
Next: Model Timeline
Compare classic car insurance quotes and buy online. A friendly service offering access to a range of policies and benefits.

Get a quote