Neo-classics - the next generation on show in Stuttgart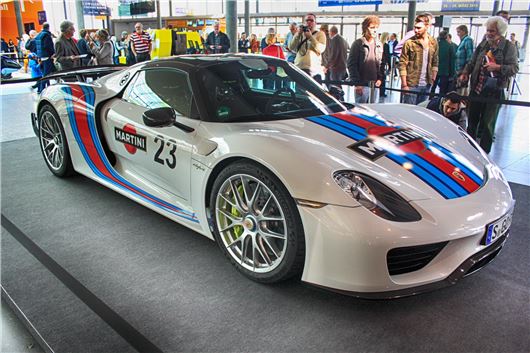 Published 15 March 2014
We like the German classic car scene. It has categories for all types of historic cars, rather than just the all-encompassing catch all term 'classics' that we use here in the UK. Anything older than 30 years old is an Oldtimer, anything between 10 and 30 years old is a Youngtimer - it's simple, logical and works. It's now also coining another phrase to add to its lexicon - the Neo-Classic.
These cars were - those models that are hugely interesting, but built within the last decade - in abundence at Stuttagrt. The broad range of what the organisers called the timeless classic models includes the new Porsche 918 Spyder, a 900bhp hybrid that was build just down the road from the exhibition halls - and an example of the limited edition high-powered vehicle hypercar bedecked in the iconic Martini racing colours was shown in the East entrance area.
It was part of a display that was dubbed the VOS (Vision of Speed) on show at Retro Classics. The question is - do you think that speed and power are the only prerequisites for future classic status, as suggested by the show organisers? We'd be happy to hear from you.
Retro Classics Stuttgart
Comments
Author

Keith Adams
Latest