120 years of motor sport to be celebrated in Stuttgart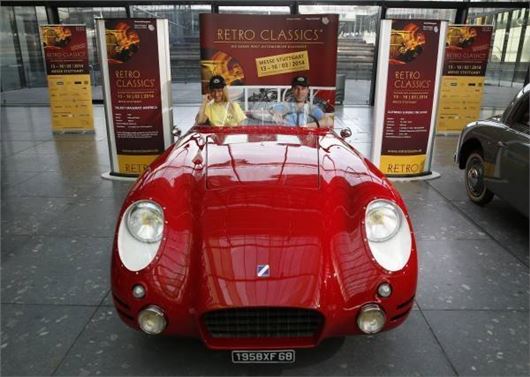 Published 07 March 2014
Mercedes-Benz and Porsche are the focus of motor sport celebrations at the 2014 Retroclassics at Stuttgart. Daimler celebrates 120 years in competition, and will have a hall to itself, while Porsche will be marking its return to Le Mans in 2014 with a significant display.
Mercedes-Benz's ancestor, Daimler, enjoyed its first competitive outing on the Paris-Rouen-Paris route, in 1894. At the Retroclassics show, Mercedes-Benz gets its own hall to celebrate this birthday, but will be centring on a display of classics that includes the thunderous DTM cars.
Lars Niehaus from Mercedes-Benz Classic said: 'The vehicles on show mainly come from the last 30 years. Pairs of the respective racing and road vehicles are created. Our oldest exhibit originates from 1984, the most recent is a DTM C Class for the 2014 season.'
In Hall 4 - the motor sports area - Porsche will line-up with Ferrari, Maserati, Alfa Romeo and the Hockenheimring, to show their wares. A comprehensive overall view of the Porsche Museum to Porsche classics through to the Porsche Clubs will be presented. Achim Stejskal, Director of the Porsche Museum, said: 'For Porsche 2014 is all about the 24 hours of Le Mans", "For instance, at Retro Classics for the first time we will showcase vehicles from our collection which were at the launch of this famous long-distance race. As a sports car manufacturer we will of course also create a race track atmosphere." In the history of the 13.65 kilometre long "Circuit des 24 Heures", the legendary 24 hours of Le Mans, the Zuffenhausen-based car manufacturer lies ahead of Ferrari and Audi on the all-time winners list. Over a decade later and a return is being made to the LMP1 class (prototype class) in 2014. Motto: "Mission 2014. Our Return.'
Retro Classics takes place from 13-16 March 2014 on the Stuttgart trade fair grounds. On the Preview Day on Thursday, 13 March 2014, the halls will open from 15.00 onwards especially for journalists and visitors who want to admire the exhibits without the crowds. 
More details about the show, how to get there, and where to stay, visit www.retro-classics.de



Retro Classics Stuttgart
Comments
Author

Keith Adams
Latest