Preview: Retro Classics, Stuttgart, 13-16 March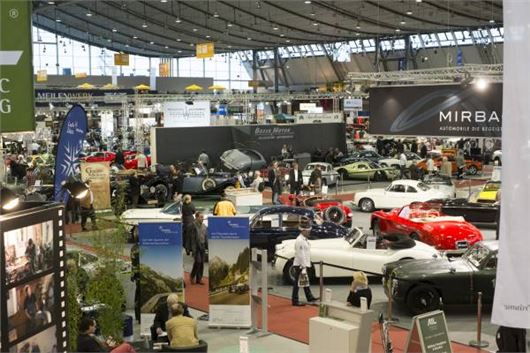 Published 17 January 2014
The Retro Classics Stuttgart show (13-16 March) is one you should add to your diaries in 2014. It's a big, German, classic car event that represents a genuine alternative experience to the much better known Techno-Classica in Essen.
In 2013, it attracted 77,000 visitors, and in 2014, 1300 exhibitors will present more more than 3000 classic cars. But for the UK traveller, it's a perfect drop-in, fly-home event, as the exhibition halls are next door to Stuttgart airport, and it served by a number of hotels.
Highlights of the show are numerous. Being based at the heart of the German car industry, near Porsche, Mercedes-Benz and Audi, it's no surprise that these marques' cars will be there in legion. But you'll also be able to see themed displays from Ferrari and Maserati (Hall 1), Mercedes-Benz (Hall 7) and Porsche (Hall 4), while Hall 3, will be the 'traditional hall for dealers and restoration garages.' Classics for sale are a real temptation, but watch for high European prices!
There will be a number of special displays. A good example of this is 'Eleven forgotten French brands.' There will be cars from Bugatti (not so forgotten, admittedly), Delage, Delahaye, Talbot, Salmson, Voisin, Hispano-Suiza, Hotchkiss, Lorraine-Dietrich, Panhard & Levassor and Facel-Vega. It will be a stunning line-up. Also, the Nissan Skyline GT-R from the film Fast & Furious IV will not only be on show, it will be on sale for a cool 300,000 euros. Other highlights include the massive autojumble hall, the club stands - and on Saturday morning, the drive-in of the visitors' classic cars, which is an open air show in its own right.
Retro Classics is becoming more and more international and if you've not been, it's certainly worth visiting: around 8500 out of the 77,000 visitors who attended Retro Classics 2013 came from overseas, with many Brits joining in. So it's quickly losing its local show focus. Stay tuned for more Retro Classics stories.
For more information, and to book tickets, visit the Retro Classics website.
Retro Classics Stuttgart
Comments
Author

Keith Adams
Latest