Mercedes-Benz hosts massive 120-year birthday display: Techno-Classica 2014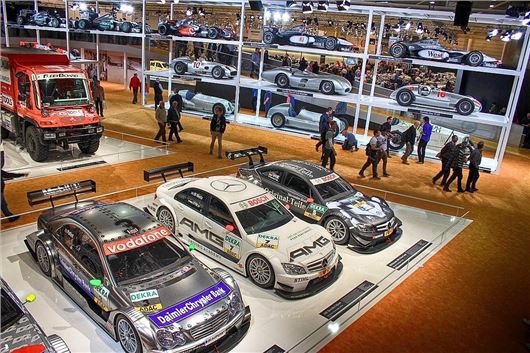 Published 31 March 2014
Mercedes-Benz Classic stole the show at the 26th Techno-Classica in Essen, thanks to an amazing display, which celebrated 120 years in motor sport. The display, which was a timeline of the company's victories since 1894 occupied an entire hall, and placed the cars on plinths, stacked three cars high, with an elevated viewing platform.
The display raised the standard of Essen's show-stands up to those of the international new car events, and sets a high bar for rival manufacturers to aim at in 2015. The display was intended to showcase outstanding innovations in racing technology. More than 30 racing cars from the past 120 years were shown on the 4800 square-metre exhibition stand, the most valuable coming from Mercedes-Benz Classic's amazing collection, ably supported by the official owners' clubs.
The cars ranged from the 110-year-old Mercedes-Simplex to the Formula 1 challenger from 2013. Pretty much all discplines in sport were represented too, with rally cars, sports racing prototypes, DTM, speed records and truck racing all making an appearance. Although most of the visitors we spoke to said that the original Silver Arrows from the 1930s stole the show. The company also ensured a selection of star drivers were also on hand - and they included Klaus Ludwig, Steve Parrish, Björn Waldegaard, and Karl Wendlinger.
Michael Bock, Head of Mercedes-Benz Classic said: 'Techno Classica, as one of the most important venues for historical automotive culture in the entire world, is a fitting setting for this excellent presentation of original competition cars from 12 decades.'
You can check out some of the best pictures in a separate gallery, but here are some of the highlights: 1902 Mercedes-Simplex, 1910 Prinz Heinrich special touring car, the 300SL (W194, 1952) and 300SLR (W196S, 1955), Group C Sauber Mercedes C9 (1989), the 190E 2.3-16 (1988), a 280E (W123, 1977), 450SLC (C107, 1978), and a selection of recent McLaren and AMG-Mercedes Formula 1 cars.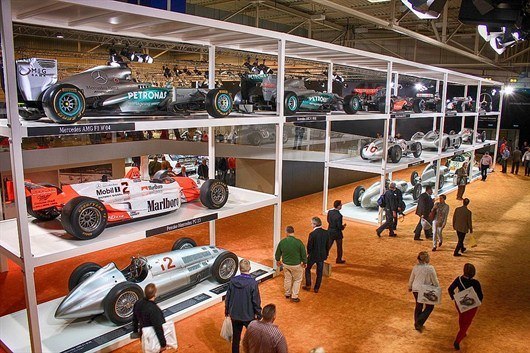 Techno-Classica Essen
Comments
Author

Keith Adams
Latest