110 Hammer Prices You May Have Missed from Barrett Jackson 15th January Sale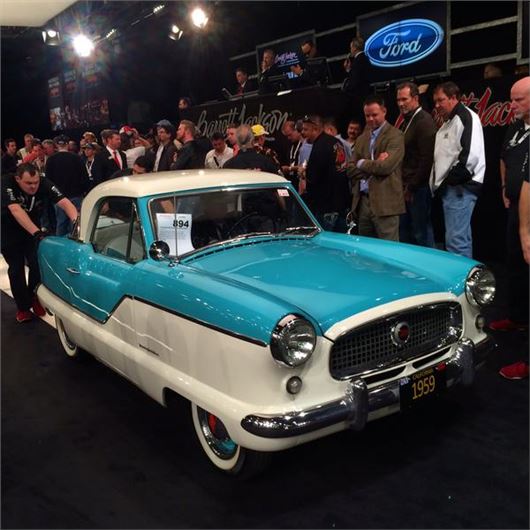 Published 16 January 2015
With Barrett Jackson car auctions starting at 10.00am Arizona time, 8 hours behind the UK, most of these sales are taking place while Brits are in bed.
But Arizona is 14 hours behind Thai time, which means they start at midnight and run to midday next day.
So my periods of consciousness mean I can fill in some of the gaps while you were asleep dreaming of Corvettes, Mustangs and hot-rods.
With the Ron Pratte collection sold, on the third day there were a lot more cars selling in 'price range', which seems to be $30k - $60k.
Remember, here, the bidders have American tastes, which are very different from those in Europe. This is where big private collector money meets the better hot rod shops.
The most prized cars are the muscle cars from the years when 'baby boomers' first got their driving permits.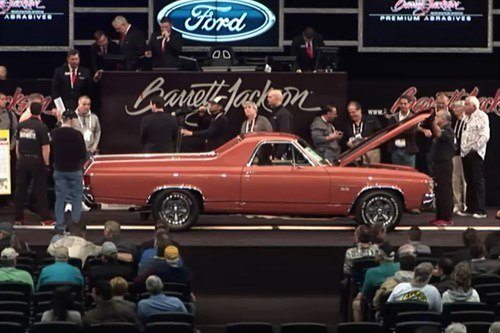 Rather too many unique 'special edition's, maybe. But the big turn-ons are 'super muscle cars', a term coined by Barry White of Corona, California for the muscle motors of the 1960s and 70s brought up to date with the latest tech that can include air suspension, rack and pinion steering, 6-speed manual and autoboxes and remanufactured 'crate engines', some of them offering 600HP plus.
But the buyers at Barratt Jackson are smart. They know the difference between a top build and a car that isn't quite up to the mark, and that can mean a $100,000 price difference.
Two buyers names that cropped up repeatedly were Ron Price and 'Chisholm'.
And credit to the rostrum for never letting a car that topped out but deserved to make a lot more escape without sensible bids.
Remember, thanks to Mke Brewer for the link you can hook up to the live link auction at: 
http://www.barrett-jackson.com/Account/Login?ReturnUrl=%2fLive%2fStreaming%2fVideo
You then have to enter your email and a password, then click the <Watch Live> box in the top LH corner.
So swallow, take a deep breath and start here. The first batch was from the first hour of sale on 15th January. The second batch from the evening of 15th January.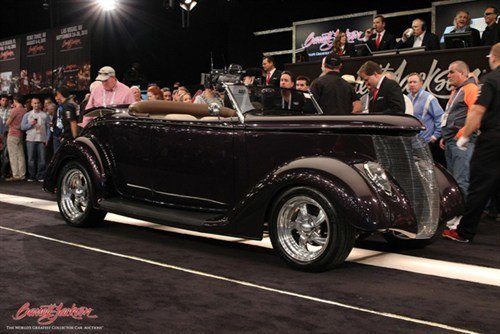 466 1936 Ford custom convertible $95k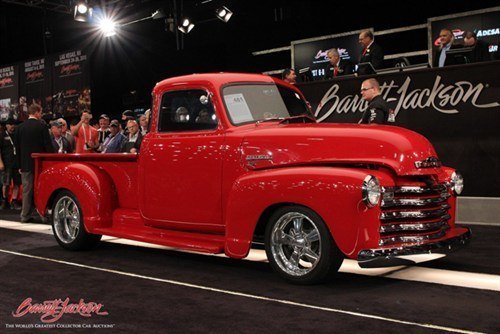 481 1950 Chevrolet 3100 pick-up custom $81k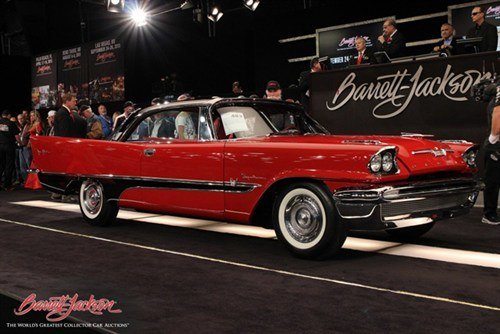 483 1957 DeSoto Fireflite 2-door hardtop $75k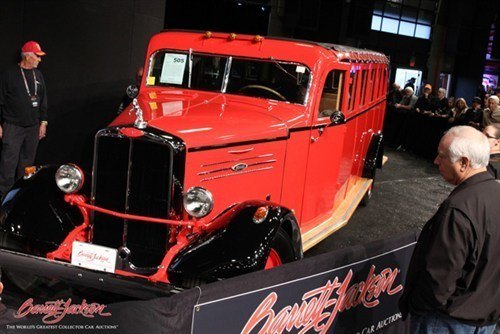 505 1935 White custom bus $82k
513 2009 Chevrolet Corvette ZR1 $75k
618 1957 GMC 250 flatbed truck $5k
620 1985 GMC Sierra pick-up $12.5k
621 1961 Chevrolet Corvair Lakewood SW auto $10k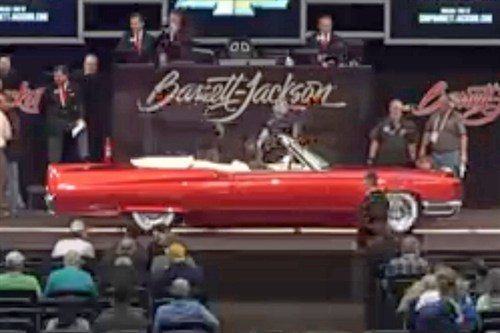 622 1970 Cadillac DeVille convertible custom $15k
623 1999 JEEP Wrangler custom £14.5k
624 1979 Chevrolet Camaro Z/28 £18.5k
625 1957 Porsche Speedster replica £21k
626 1949 Plymouth Suburban SW, Hemi engine $14k
627 1971 Ford Mustang Mach 1 FB 285HP $30k
628 1980 Chevrolet Corvette $14k
629 1969 Ford Ranchero pick-up custom $14.5k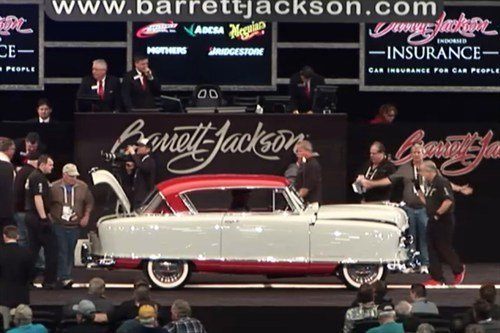 630 1951 Nash Country Club 2-door $14.5k
630.1 1971 Chevrolet El Camino SS big block 37k miles $24k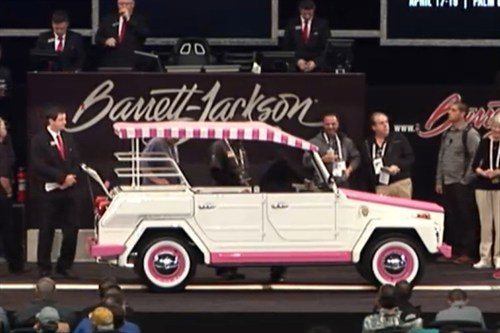 631 1973 VW 181 Thing beach car $25k
632 1984 JEEP CJ custom $15k
633 1969 Chevrolet Nova SS custom $16k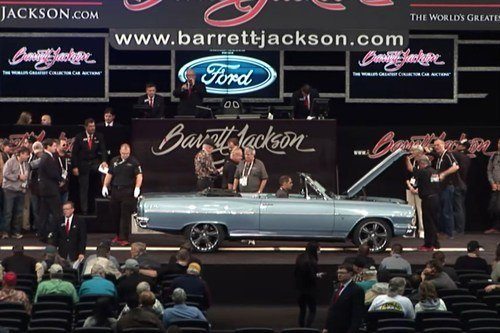 634 1964 Chevrolet Chevelle Malibu convertible $18k
635 1987 Buick Grand National 2-door V6 $21.5
636 1939 Ford F1 pick-up custom £16.5k
637.1 1941 Dodge ½ ton pick-up, air suspension $25k
638 1978 Chevrolet Corvette L88 $16k
zzzzzzzzzzzzzzzzzzzzzzzzzzzzzzzzzzzzzzzzzzzzzzz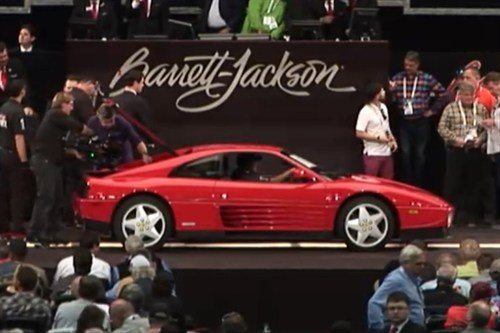 774 1989 Ferrari 348TB coupe $40k
775 1951 Rolls Royce Wraith Hooper touring limo $45k
3002 Charity Lot 2015 BMW M5: $700k
3003 Charity Lot 2016 Cadillac CTS-V 4-dr 640HP $170k
775:1 1941 Ford Super DeLuxe convertible custom IFS $62k
776 1971 Chevy Nova custom $35k
777 1970 Ford Mustang 427 convertible $48k
778 1968 Chevrolet Camaro SS 427 $50k
779 1962 Chevrolet Corvette 324 4-sp roadster: $45k
779.1 1963 Chevrolet Impala convertible custom 6-spd $47k
780 1970 Dodge Challenger R/T $93k
781 1965 Chevrolet Corvette Stingray coupe custom $45k
782 1970 Mercury Cougar XR7 428 convertible $40k
783 1937 Ford custom roadster L460 trans $60k
786 1965 Chevrolet Chevelle custom $54k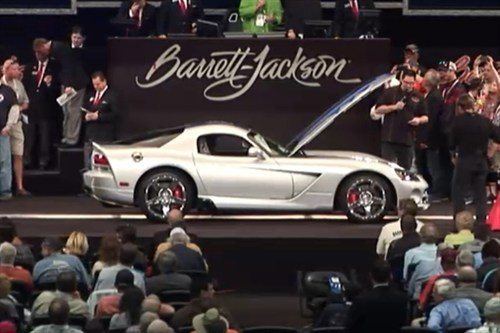 787 2010 Dodge Viper GTS (just 27 miles) $74k
788 1996 Dodge Viper GTS $55k
789 1992 Dodge Viper R/T roadster $39k
790 1970 Ford Mustang Mach 1 428 CJ FB
791 2007 Ford Mustang Shelby GT coupe manual $37k
792 2002 Dodge Viper GTS Hennessey Venom 700R $62k
793 1957 Ford Thunderbird E wire wheels $47k
793.1 1957 Chevrolet 201 custom $150 resto $82k
794 1968 Chevrolet Camaro RC custom hardtop 468ci $47k
795 1969 Ford Mustang custom FB 428ci $46k
796 1966 Ford Mustang convertible 302ci s/c custom $48k
797 1968 Ford Mustang custom Shelby 428ci engine $55k
798 2011 Porsche 911/991 cabrio 7-spd man: $87k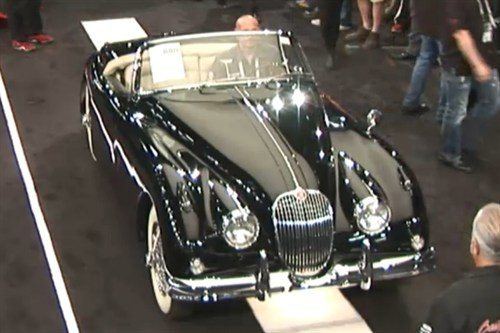 800 1959 Jaguar XK150 roadster $80k
800.1 1967 Austin Healey 3000 Mk III BJ8 $55k
801 1969 Ford Mustang CJ FB custom $35.5k
803 1930 Ford Model A pick-up lowrider custom $98k
804 1966 Ford Mustang GT K code convertible $100k
805 1968 Jaguar E-Type 4.2 SII roadster $93k
805.1 2001 Bentley Azure Mulliner convertible $70k
806 1967 Chevrolet Camaro custom 468ci $90k
807 1955 Daimler DK400 limousine $27k
808 1948 Lincoln Continental convertible $65k
809 1969 Chevrolet Camaro 427 custom 6-speed $34k
810 1970 Pontiac GTO Judge auto $52k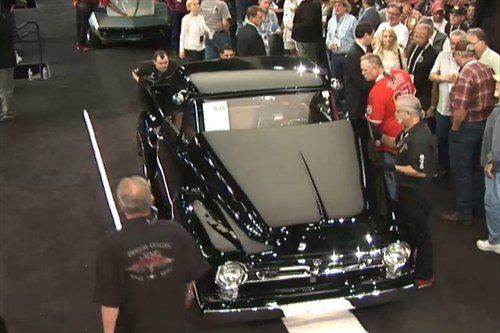 811 1956 Ford F-100 pick-up custom air susp, 600HP $147k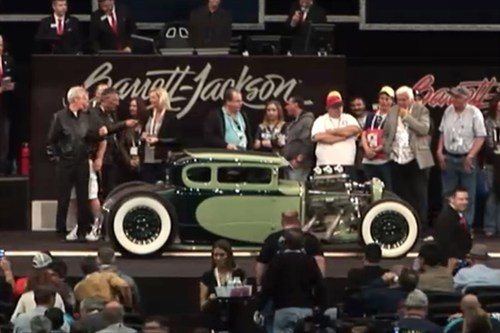 812 1930 Ford Model A custom $66k
813 1956 Mercedes Benz 190SL with hardtop $77k
814 1954 Chevrolet Corvette 235ci 6 cylinder $89k
814.1 1969 Chevrolet Corvette Tri Power (60k miles) $92k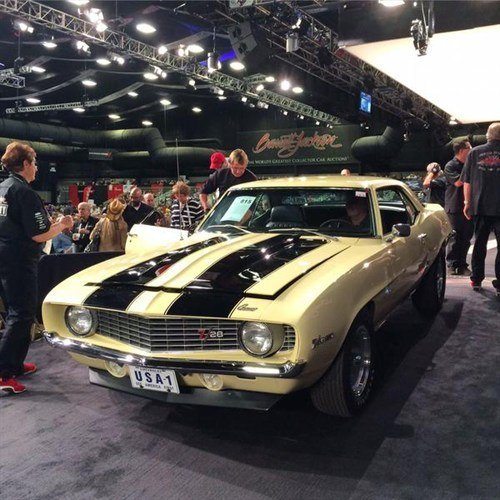 815 1969 Chevrolet Camaro Z28 code 40 yellow $67k
815.1 1969 Plymouth Road Runner Hemi $86k
816 1966 Chevrolet Corvette custom $63k
817 1967 Ford Mustang custom $96k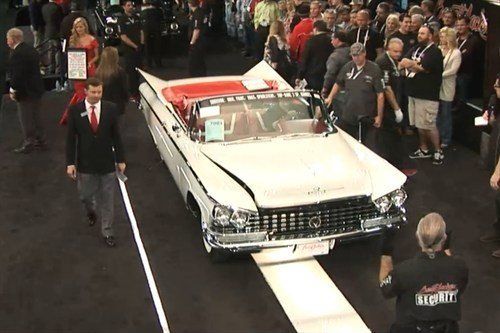 7001 1959 Buick Le Sabre convertible $85k
819 1969 Plymouth Roadrunner $81k
820 1967 Ford Mustang custom $102k
822 1970 Dodge Challenger $66k
823 1958 Chevrolet Impala convertible 348ci $100k
824 1962 Austin Healey 3000 Mk II BN7 roadster $48k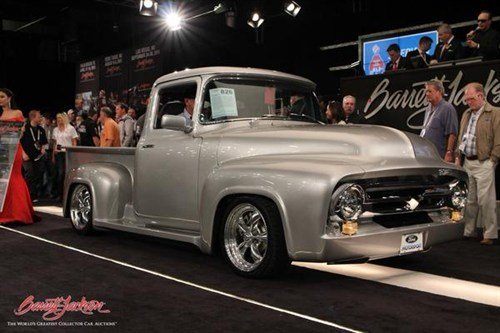 826 1956 Ford F100 custom $200k resto $220k
832 1933 Ford speedster hot rod $53k
836 1956 Ford F-100 custom 302ci $85k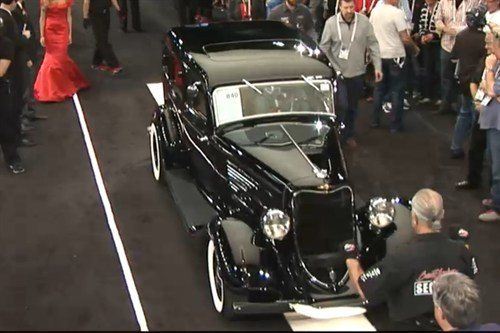 840 1934 Dodge 4-door custom $50k
841 1958 Cadillac 62 convertible $77k
850 1970 Oldsmobile 442 convertible $89k
851 1962 Chevrolet Bel Air bubble top custom $85k
854 1933 Ford custom roadster £180k
855 1964 (64 ½) Mustang K code HiPo 289 conv $75k
856 1961 Pontiac Bonneville convertible 4-spe $40k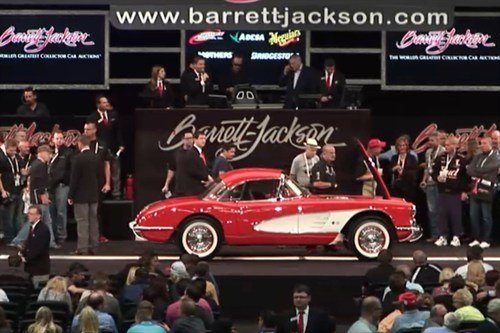 860 1960 Chevrolet Corvette 283/270HP + h/t $88k
861 1961 Chevrolet Corvette 283/270HP $51k
862 1923 Buick Series 23-55 conv (16k miles) $52
864 1970 Plymouth GTX custom 440ci 500HP $67k
866 1966 Jaguar S-Type (best in USA) $34k
872 1972 Chevrolet Super 10 Cheyenne pick-up $47k
874 1965 Ford Mustang 289 D code convertible $40k
878 1978 Ford F250 4x4 custom pick-up $24k
880 1962 Chevrolet pick-up $18k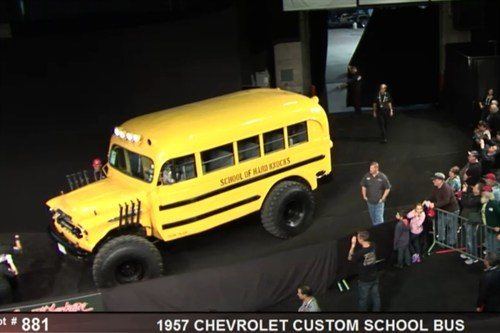 881 1957 Chevrolet 16 seat school bus custom 2WD $40k
882 1979 Pontiac Firebird TransAm T-top Bandit car $20k
883 1935 Ford pick-up custom chopped top $67k
884 1965 Chevy Nova custom 383ci 292HP
885 1971 Chevrolet Corvette T-top (44k miles) $25k
886 1949 Hudson Commodore 4-dr 262ci $16k
887 1970 Cadillac Eldorado hardtop (38k miles) $14k
888 2000 Mercedes-Benz SL500 (13k miles) $25k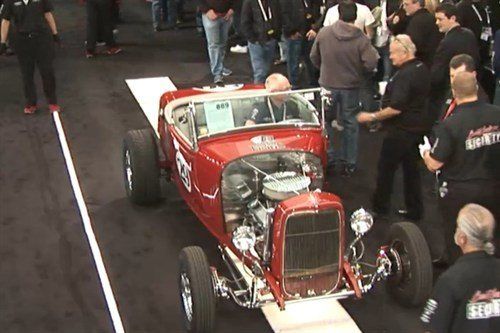 889 1929 Ford Model A hi-boy Chevy V8 by John Nichols $18k
891 1930 Ford Model A pick-up original 4-cylinder $18k
892 1929 Ford Model A roadster pick-up original $24k
894 1959 Nash Metropolitan hardtop $18.5k 
Barrett-Jackson: Scottsdale
Comments
Author

Honest John
Latest