Ferrari 365GTB/4 Daytona (1968 - 1973)
Last updated 15 January 2014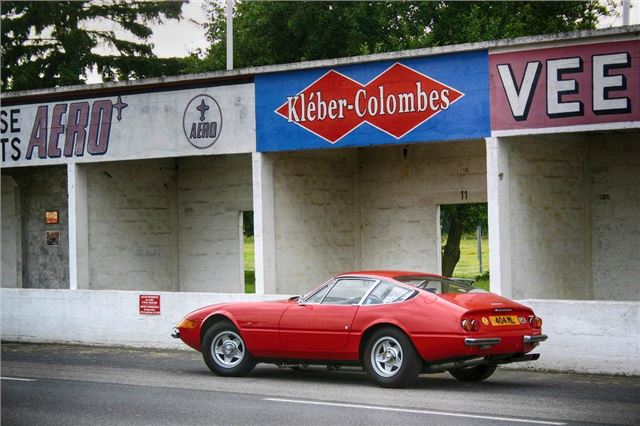 The Ferrari Daytona was the world's fastest production car when it was launched in 1968 - a title it kept a tight hold of until it was replaced by the BB in 1973. As a result, it was an instant legend - and remains so to this day.

We take one of the best examples in daily use for an extended run to see if its towering performance still holds up to this day - you probably already know the answer to that. But it was fun trying.
---
Classic road test: Ferrari 365GTB/4 Daytona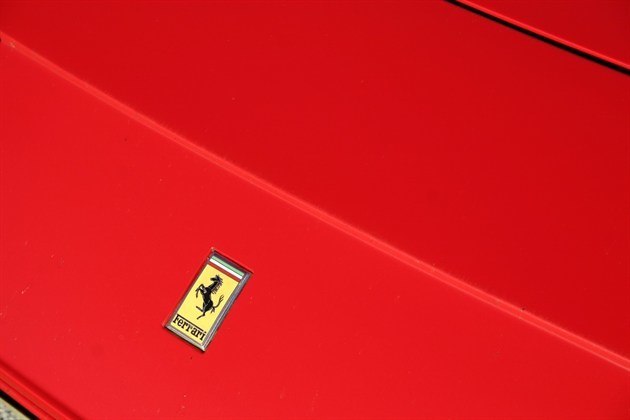 The iconic prancing horse...
So - Daytona or Miura? When anyone's asked to define the ultimate 1960s supercar, all but the most ardent Ferrari fans will cite the Lamborghini Miura as the originator of the breed. Certainly, CAR magazine's LJK Setright is well known for having popularised the phrase after driving one across the Alps.
Since then, it's been a matter of heated debate as to what is - and what isn't - one. We'd say that in many ways, the 1968 Ferrari Daytona trumps its mid-engined Italian rival as the ultimate, because is it faster and more usable in just about any situation, and is equally as arresting to look at. And let's face it, the Daytona has a impeccable bloodline steeped in Le Mans history.
For many years, though, the Daytona's front-engined layout seemed a little passé, especially considering that in the Miura's wake, it seemed that all the best dressed supercars had their engines directly behind their driver's heads. That's all changed now - but well into the 1990s, mid-engined supercars ruled the roost. As we all know, this conservatism underlined Enzo Ferrari's approach to road car design perfectly - his company would only adopt the latest technology after it had been fully 
tried and tested by the opposition.
The Daytona was a development of its predecessor, the 275GTB/4 and blew away all those who first saw it at its launch in the 1968 Paris Salon. Its steel body was built by Scaglietti and founded on a tubular frame chassis, as had been the case for many previous Ferraris. Under the skin, it was much the same - the wheelbase was identical at 94.5 inches, but the track was half an inch wider. And as before, it had upper and lower wishbones, coil springs, telescopic dampers and fat anti-roll bars front and rear for its suspension set-up. Steering was by worm-and-nut, and the all-disc brake set-up had a dual-split servo for added stopping power, while the five-spoke alloys wore 215/70x15 Michelin XASs.
The Daytona's pièce de résistance was its Colombo V12. By 1968, it had expanded to 4.4-litre 365 form, powering delectable selection of front-engined Ferraris. With double overhead camshafts and six downdraught Webers, twin coils and distributors, this was the most powerful version of this V12 yet. It was fully featured, and developed 352bhp and 318lb ft to power this aerodynamic Leonardo Fioravanti-styled supercar to an independently verified maximum speed of 174mph.
The age of the supercar was truly upon us...
About the Ferrari Daytona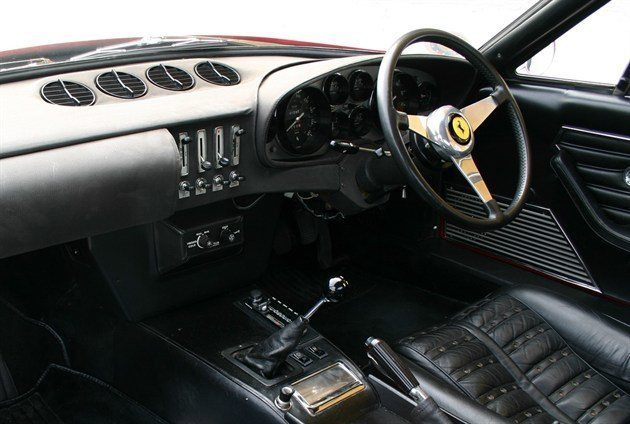 The Daytona's interior is incredibly driver focused, with big, clear dials that are easy to see, and an excellent driving position - it's the classic high speed businessman's tool.

So, the Ferrari Daytona was pretty much the final flowering of the supercar 365 line - the result of a careful process of engineering evolution, following much the same formula that Ferrari had repeated since the mid-1950s. The 1974 BB may have had an identical engine capacity, but its flat-12 engine was pretty much all-new - and the 365 GT4 2+2 continued with a development of the Daytona's engine, but that was much more of a super GT than a supercar.
But despite being effectively the end of the line, the Daytona was still very much a contemporary car when it was launched. Along the line, the V12 line of Ferraris picked up all the technical innovations that had come along during the 1960s, such as independent rear suspension and a five-speed transaxle. So it looked amazing, and was underpinned by top-drawer engineering, but the Daytona's main calling card was that it combined effortless long-distance hauling ability with top end performance that transcended all of its rivals.
Even today, its standing start acceleration figures recorded by Autocar make impressive reading. Here are the main increments - 0-60mph in 5.4 seconds, 0-100 in 12.6, and 0-150 in 31.5. The standing quarter was dispatched in a thoroughly acceptable 13.7 seconds - and as we've already highlighted, the maximum speed reached by the road testers was 174mph. Even today, they really stack up - you'll need something pretty special to leave a Daytona in its wake - and even then., it won't look or sound anywhere near as good.
So rather like the ageing heavyweight who's kept himself trim, the Daytona can still land blows on the youngsters. And we love it all the more for being able to do so.
On the road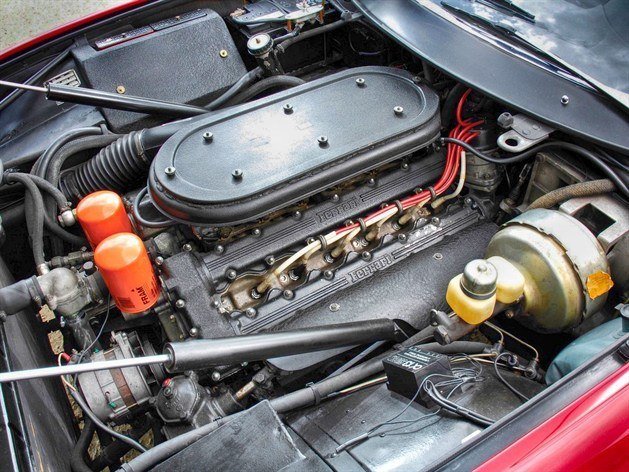 The Daytona's 4390cc V12 engine is a joy to behold - and that's before you start it up.

Our 'tipo A' Daytona belongs to Matthew Lange, and he's the perfect custodian for this car. It's been in his family since late 1974, after being delivered new to the UK in September the previous year, has a mere 55,000 miles on the clock despite being regularly exercised. It's also immaculate - and Matt reminds us that we're only the fourth person to drive it in 20 years. But as Daytonas go, its story isn't unique - and if anything it's racked up an above average amount of miles over the years.
It's worth noting that Matt's car has been upgraded in three important areas: it's received an uprated starter motor, later stainless steel exhausts, and a Ferrari 400 power steering set-up. The steering upgrade is the most interesting one, as previous Daytona experience tells us that the standard set-up is heavy enough to take much of the joy out of low-speed driving, only coming to life once you're cracking along at A-road speed. There's some kickback, but that's a worthwhile trade-off for the feel it delivers. It's necessary to mention the standard steering, as most Daytonas will be thus equipped - so the oversized steering wheel is needed to overcome the inertia of the worm and nut set-up. Not only is the steering is incredibly heavy, the turning circle is far from tight.
One quick stab of the super-long travel throttle and you're treated to a deep-lunged and tuneful engine note. It's an epic engine, all right.
The driver's door opens wide, and it's surprisingly easy to get in over the sill, and retain your dignity. Once in, you'll be pleased to learn that it's a relatively friendly and conventional place to sit. The driving position is low, and the all-round visibility is even better. Head-, leg- and elbow-room are surprisingly plentiful, which is a boon considering the fixed backrests, while the dashboard's instrumentation – a large speedometer and tacho, split by four auxiliary gauges, and flanked by a further pair – is clear and easy to read. This is as you'd expect in a GT car that's been designed for drivers. It's no stripped out special, either. The interior is tastefully finished in black, and the seats are covered in matching high quality leather.
The Daytona is easy to start - you pump the throttle to prime the cylinders with fuel, and once it catches, the V12 settles into a smooth, slightly chattery idle. There are none of the histrionics you might expect from such a highly tuned engine. The long travel throttle feels incredibly adjustable. One quick stab, though, and you're treated to a deep-lunged and tuneful engine note. It's an epic engine, all right.
The clutch is heavy, and engages smoothly, while the gearchange is slow and slightly recalcitrant until the transmission fluid has warmed up. It's a dog-leg throw from first to second, meaning once you're rolling, first is out of the way, leaving you with four nicely placed driving gears. The steering on this example is a revelation - it's light, but still manages to retain all of its road feel. Matt reckons it gets light at more than 120mph - we'll take his word for that.
We're heading straight for the open road - typical English B-roads are not where this car is at its best. It needs room to stretch its legs, and flow in high speed curves. Once you've dialled in to this way of thinking, you can really appreciate the Daytona's massive performance. Get it on to the motorway, and you'll soon be enjoying this Italian's long legs. Fifth gear pulls happily from 1000rpm and 25mph, yet cruises benignly at 3000rpm for 80mph. So we've already found that the Daytona is fast and built for the motorway, which comes as no surprise. And you're able to do this all day long, thanks to its costly to fill 126-litre (27.7 gallon) fuel tank.
The Daytona needs room to stretch its legs, and flow in high speed curves. Once you've dialled in to this way of thinking, you can really appreciate the Daytona's massive, unending performance.
On tighter roads - and despite initial reservations - the Daytona does work well enough for a car of this era that weighs 1600kg. Yes, there's a trace of understeer when you turn-in to tighter bends, but playing with the throttle in lower gears can power the Daytona into neutrality, or oversteer if you so wish. And the steering is so communicative, that you'll soon be chasing lines, although stopping short of flinging it around like a sports car. One criticism is that you'll need to acclimatise to the long nose, as it can can compromise sight lines. Matt's power-steered Daytona, we suspect is much more at home here than an unassisted one.
The Daytona's supple ride is a revelation. Damping is spot-on, while the ride on tall, squashy 70-series tyres is also relatively cossetting. It sits low on the road, but you won't find the predicted shudders even if you hit sharp irregularities in the road.
Pushing the Daytona hard is a joyful experience. On national speed limit roads, acceleration is strong enough to really catch your attention, pulling hard - properly hard - from 30mph in third gear. The power delivery is sublime, too - it comes in a seamless wave, and between 3000 and 7000rpm, there's no real let-up. Yes, you'd describe it top-endy, but the build up and crescendo of power is utterly addictive. But you don't need to extend it towards the red line - it punches usefully in the mid-range, making overtaking a formality. 70-90mph in third takes 3.0 seconds - and in fifth, it only lengthens to 5.5 seconds.
But these numbers tell only part of the story. As well as being fast, responsive and gifted with excellent handling - the soundtrack that accompanies a hard drive in a Daytona transcends its performance. At low speed it sounds cultured and interesting, in the mid-range, it's bass-heavy and rich, but at high revs it's nothing short of inspirational. It doesn't shriek like a V12 Lamborghini, but the cultured, melodious howl is immense, and will raise the hairs on the back of your neck. You'll want to do it again, and you'll go seeking tunnels at every opportunity.
The HJClassics Verdict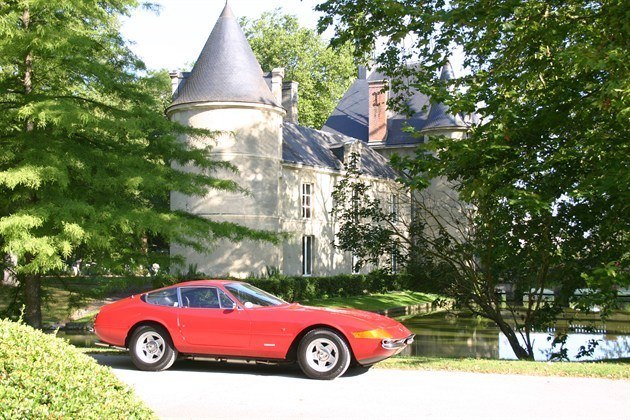 The Daytona's profile is sensational - and works anywhere, as the images below and above clearly prove.

The Daytona is a legend, and deservedly so. It's one of the most famous Ferraris of them all, and no surprise that values are high and rising, there's a great amount of demand for the best examples, and owners won't have a word said against them. And you can see why - its towering performance can't be denied, and yet - heavy steering aside - it's easy to live with, and if you're brave, you could use one every day. You could - but of course you wouldn't.
For two lucky beautiful people, the Ferrari Daytona still represents one of the fastest most capable and charismatic way of crossing continents, leaving mere mortals trailing in your wake.
Given that Ferrari values have been moving upwards relentlessly in recent years, getting hold of one is going to be a moving target. Nice ones are now nudging half a million pounds, and that has to have a bearing on how and why you're going to use your Daytona. But finances aside, maintaining one is straightforward, as good Ferrari specialists are plentiful in the UK - take your pick.
For two lucky beautiful people, the Daytona still represents one of the fastest most capable and charismatic way of crossing continents, leaving mere mortals trailing in your wake. There's room in the boot for your weekend's luggage, and the interior is spacious and comfortable enough to avoid bouts of cabin fever during an extended fast run. That's the romanticism out of the way - how does the Daytona really stack up?
It's an amazing car, and as long as you go in with your eyes open, and have a specialist you trust, there's a fix for any ills that might crop up - but all of that speed and ability comes at a price. There are many comparable and equally exotic alternatives that come in at a fraction of the price. Check out the Maserati Khamsin, Ghibli, Lamborghini Espada or Iso Grifo for much more realistic values - okay, none can hold a candle to the Daytona's all-round brilliance, but you can't deny they're equally head-turning, and have just as much presence on the road. And for many, that will make them worth considering. Food for thought?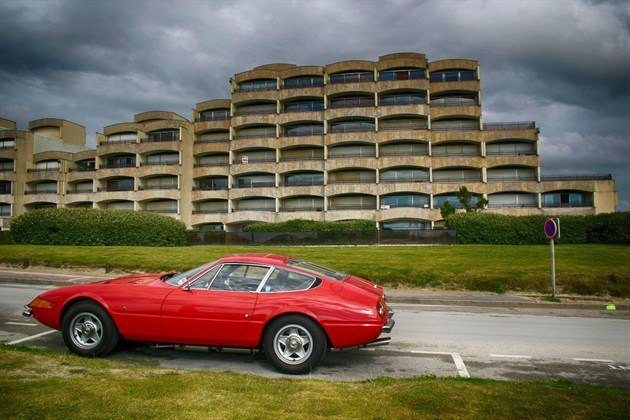 With thanks to Matt Lange
Back: Introduction
Next: Buying Guide