Classic advert: Volkswagen Golf cabriolet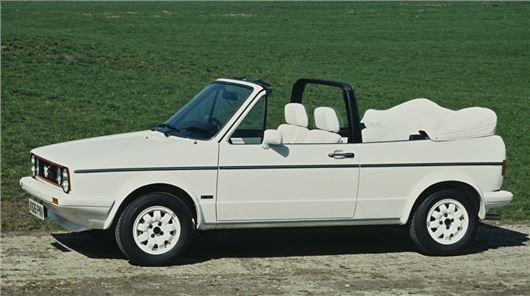 The early 1980s saw numerous four-seater convertibles being launched, usually based around the most popular hatchbacks of the day. The Ford Escort MkIII, Vauxhall Astra MkII and Peugeot 205 all ended up in ragtop guise; but it was the Volkswagen Golf MkI that got there first, with the Karmann-converted Cabriolet being launched in 1980.
Two years later, Volkswagen published this advert boasting that 'There's a roof on the top that lets in the sun. And a roof on the bottom that keeps out the rain.' 
Those comical wags at VW then ran the main blurb of the advert upside-down, explaining that the underside was fully treated with bitumen to keep rust at bay. This was certainly one of the better-built convertibles on offer three decades ago.
The first-generation Golf Cabriolet enjoyed an unrivalled career, with more than 400,000 examples rolling out of the Karmann factory – the final one not until 1993. And numerous versions were sold during that time, ranging from less powerful 1.5-litre models through to the rapid 1.8 GTi.
Various limited editions also saw the light of day, and all-white colour-coded 'specials' proved popular with up-and-coming yuppies of the 1980s. So enduring was the MkI Golf-based Cabriolet, it was still in production when the MkIII Golf hatch appeared. Remarkable… 
Comments
Author

Keith Moody
Latest