Our Cars: 1988 Bentley Turbo R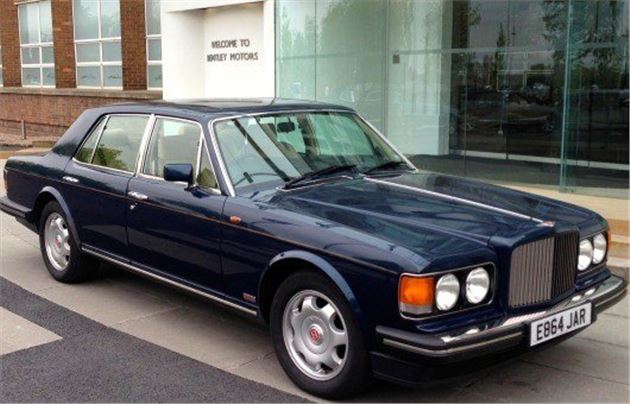 10 February 2015: Latest arrival: Bentley Turbo R
The Details
| | |
| --- | --- |
| Current mileage | 86,000 |
| Actual economy | 18.4mpg |
Before I was old enough to drive, and I used to look forward to getting my fix from that week's or months car mags (there was no internet then, of course), the Bentley Turbo R was one of the most desirable.
Yes, the Lamborghini Countach was outrageous and other-worldly, the Ferrari Testarossa had 1980s style by the bucketload as well as Italian charm. But for saloons, the Bentley Turbo R was the pinnacle.
If Rolls-Royce made the best cars in the world (it probably didn't, but it certainly had the heritage to stake a strong claim), then the Bentley Turbo R was the fastest best car in the world.
The Turbo R was developed from the Mulsanne Turbo, a high performance version of the Mulsanne (sister car to the Rolls-Royce Silver Spirit), introduced in 1982.
There were no changes to the chassis for the additional performance with the Mulsanne Turbo. But in 1985, the Turbo R arrived with a much stiffer set-up. It was thought that both models would exist alongside each other, but demand for the softer Mulsanne Turbo tailed off.
I bought my Turbo R in 2012. I'm no stranger to thirsty V8s – I had sold my Jensen SP auto three weeks before buying the Bentley, so had, in fact, downsized engines.
My car was registered in 1988, a year after Rolls-Royce and Bentley models in the UK adopted fuel injection and ABS. The twin headlamps are retro-fitted – they weren't standard on Bentleys until 1989, and my 17-inch wheels belong on a mid-1990s Turbo R. Until 1994 they ran on 15-inch wheels.
Both of these features are desirable upgrades, not least because they take years off the car and, ignoring the E-plate, it could pass for a later model.
Inside there are tell-tale signs that betray its true age. It has a three-speed automatic gearbox with the selector on the steering column. In 1990, when four-speed transmissions were introduced, Bentleys had a 'sportier' conventional auto gearstick selector while Rolls-Royce retained the column-mounted item.
So far, ownership is going well. Sometimes a few jobs need doing at once and the bills look quite unpleasant, but in general maintenance and one-off fixes aren't too bad.
No doubt, you'll be reading about some of them over the coming months.
Later: Bentley gets some serious TLC »
Updates

Simon drives the big Bentley to Europe

After spending a fortune on a respray, a stonechip threatens to spoil the party

Simon decides it's time to explore his classic's racing heritage

After 120 hours of labour, Simon's Bentley is ready to shine

Drastic action is required to rejuvenate the Turbo.

Simon's Turbo R gets to know the Mulsanne Speed

Simon has an expensive few months with his Turbo R

10 February 2015: Latest arrival: Bentley Turbo R
All hail Bentley Turbo R - the fastest best car in the world.