Lamborghini Countach (1974 - 1990)
Last updated 11 August 2013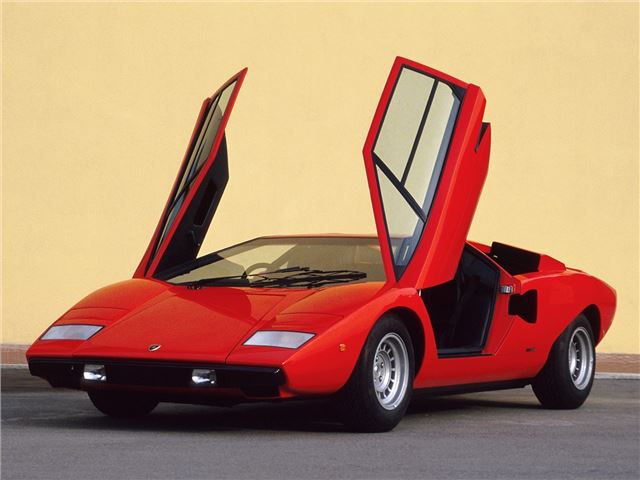 The ultimate supercar of the '70s, brilliant V12 engine, amazing styling with scissor doors, and QV models capable of well over 180mph
Hard to drive quietly
Updated 1 February 1990
Final Countach leaves the line
Introduction
The Lamborghini Countach was a supercar icon from the moment the first prototype appeared at the Geneva Motor Show in 1971. After a serious amount of work, the production version went on sale at the end of 1973, after losing a litre's engine capacity and sprouting ducts and vents to aid cooling. With its dramatic wedge style, scissor doors and a claimed maximum speed approaching 200mph from its 375bhp V12, the Countach was a concept car for the road. But despite its otherworldy looks, it was also dynamically much more complete than the Miura - with more grip in the bends, and far more stable high-speed cruising.
In 1978, Lamborghini unveiled the Countach LP400S. It was the first serious revision, but were considered highly appropriate considering that wit all that performance, the original car wore relatively skinny tyres. In S-specification, the Countach was now fitted with low-profile Pirelli P7s, and a new bodykit was required to make the wider wheels fit. The entire suspension geometry was changed to cope with the very wide rear wheels, while that over-the-top rear wing began to make an appearance on owners' cars.
In 1982, the Countach received a larger engine in order to claw back some of the lost high speed performance that had been lost when that bodykit was fitted. Lamborghini dabbled with a turbo-charged version of the V12 4.0-Litre engine, but the project as abandoned in an early stage in favour of expanding the engine. When the LP500S appeared, it had gained 800cc and a mere 10bhp (claimed), but the increase in torque had huge benefits on driveability.
But better was to come in 1985, when the LP500S was upgraded to QV specification. The newly-enlarged 5167cc Quattrovalvole engine, designed by Giulio Alfieri, saw power leap to 455bhp and acceleration was once again shattering, blowing the new Ferrari Testarossa into the weeds. And this was - by far - the best Countach of them all. The final revisions came in 1988 to celebrate the 25th anniversary of the founding Lamborghini. The Countach Anniversary turned out to be the best-selling Countach of them all with 667 units made - visually it was a retrograde step (despite new bodykit styled by Horatio Pagani), and there was no more power than the QV, but the newly luxurious interior clearly struck a chord with late-'80s supercar buyers.
Next: Model Timeline