Peugeot and Citroen to get new heritage centre
Published 16 July 2015
Peugeot, Citroën and the recently launched DS brand will get a new combined heritage centre in France over the next few years.
The centre will be built on the existing museum L'Aventure Peugeot at Sochaux, near France's eastern border with Switzerland. The site is also home to an industrial facility that is owned by Citroën and Peugeot's parent company, PSA.
While Peugeot's heritage centre and museum was founded 30 years ago and is well developed, questions had been raised about Citroën's famous Conservatoire.
The Conservatoire is housed at Aulnay-sous-Bois, just outside Paris, where Citroën used to make cars. In 2012, the manufacturer announced that the plant would close and 8000 jobs would be lost in a major shake up of its operations. Fears were growing that the 400-car collection would be mothballed or broken up.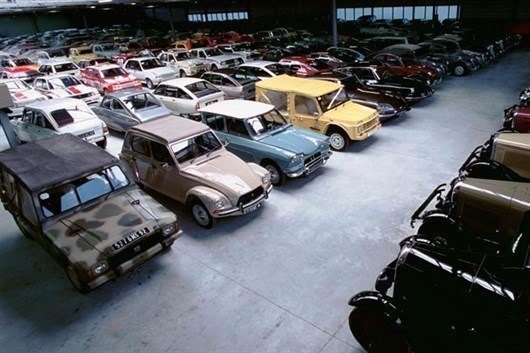 The new heritage venture will be called L' Aventure Peugeot Citroën DS. It promises to  remain faithful to each marque by continuing to organise special events for  enthusiasts under the L' Aventure Peugeot, Citroën Héritage and DS Collection banners.
Xavier Peugeot, current president of L' Aventure Peugeot and head of product planning at Citroën, will continue to serve as president of the new association.
The association, will have a dedicated team of employees who will centralise and coordinate the existing activities, as well as develop commercial activities in the heritage sector.
Commenting on the plans, Xavier Peugeot said, 'By becoming L' Aventure Peugeot Citroën DS, the association takes on a new dimension and opens up new avenues for the development of activities related to the history of the Group and its brands.
'I am extremely proud to continue my commitment to the association in its new format, which recognises the hard work put in up to now by all of our automotive enthusiasts.'
Carlos Tavares, chairman of the managing board of PSA Peugeot Citroën, said: 'After a difficult period, PSA is taking charge of its future thanks to our employees' endeavours and the disciplined rollout of the 'Back in the Race' plan.
'A brand's success lies in the strength of its history, so we must take care of our roots in order to build our future. As an enthusiast for cars of the past, present and future, I am delighted to play a role in this ambitious project.' 
Comments
Author

Keith Moody
Latest