Rowan Atkinson's McLaren F1 sells for £8m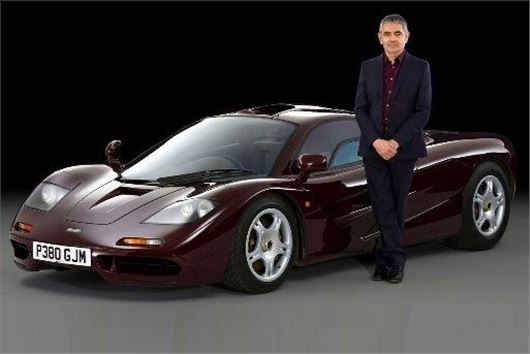 Published 11 June 2015
A McLaren F1 owned by Mr Bean actor Rowan Atkinson has been sold for more than £8 million.
Atkinson bought the supercar new for £640,000 in 1997. But it has now been sold by London-based luxury car dealer Taylor & Crawley for more than £8 million.
That's £3.5 million more than any McLaren F1 sold at auction - and its nets the actor a profit of more than £7 million.
According to ClassicCarPrice, the highest recent auction price for an F1 was achieved at Gooding's Pebble Beach, California sale in August 2013, when a 14,000-mile example sold for around £5.5 million.
So it looks like having a celebrity owner has added more than £3 million to the car's value - and that's despite the car twice being involved in headline-grabbing accidents.
Minor damage was caused when the 60-year-old actor rear-ended a Rover Metro on the A6 in Lancashire in 1999.
More serious damage was done in 2011 when Atkinson came off the A605 near Peterborough and ploughed into a tree.
Significant rebuilding work to the chassis, costing more than £900,000, was done by the McLaren factory to get the car back on the road.
Atkinson's car is number 64 of 107 built and has unique burgundy paintwork. Commenting on the car, he said, 'I bought it for the quality of thinking that went into its design, and now it has become a thing of value, it is time for it to be enjoyed by someone else.'
For more, visit ClassicCarPrice.
Comments
Author

Keith Moody
Latest