Coventry Transport Museum reopens after £9.5m revamp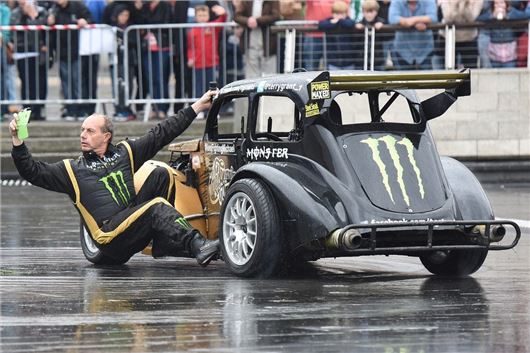 Published 24 June 2015
Coventry Transport Museum has reopened after a £9.5m redevelopment. The museum celebrated its re-opening in style with an event on Saturday, 20 June.
Multiple world record holder and supercar stuntman Terry Grant wowed the crowds with his daredevil driving.
This was followed by a parade of 'Trailblazing Cars of the World', a display curated by Harry Metcalfe (of Evo magazine, and YouTube hit Harry's Garage fame).
It was a collection of cars that changed the automotive landscape forever, and included a Lamborghini Miura (the first supercar), a Mini (iconic compact car), and Jaguar C-type (pioneer of disc brakes).
The parade also feature and Series One Land Rover (one of the world's first commercially available 4x4s), and a Porsche 911 Turbo (the world's first commercially successful turbo offering).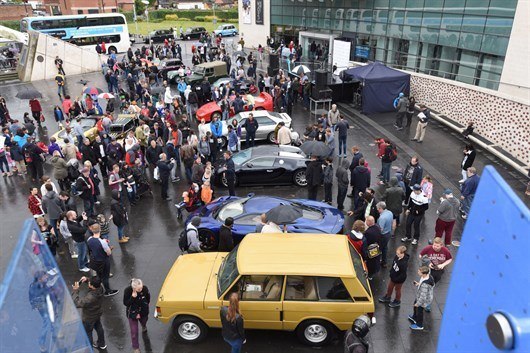 Crowds gather at Coventry Transport Museum to see the parade of 'trailblazers'
Inside, the museum has been completely transformed over the past 15 months to provide the best possible showcase for Coventry's transport heritage.
The car collection includes the world's fastest cars ThrustSSC and Thrust2, the oldest Coventry-built car, and more than 3000 toy car models - including Dinky, Matchbox and Corgi.
There are also many of the most innovative, memorable and luxurious road vehicles of the past 150 years – all built in Coventry.
But cars are only a part of Coventry's transport journey – the museum focuses on the innovators and the workers who made that growth possible.
From the cycle pioneers of the 19th century who revolutionized transport for the masses, to the men and women who created the transport, munitions and equipment during the two world wars.
But the museum also looks to the future, to innovators in technology who will shape the automotive future of Coventry and beyond.
Comments
Author

Keith Moody
Latest