Classic fans take to the track with Jaguar Heritage driving experience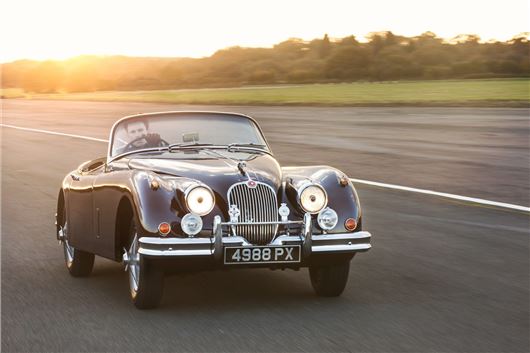 Published 12 November 2014
Classic Jaguar fans will take to the test track this week as the firm's heritage driving experience opens for business.
From Thursday, Jaguar's recently-acquired site at Fen End in Warkwickshire (formerly run by Prodrive) will pay host to a fleet of well-heeled classics.
Enthusisasts will be able to put everything from the Le Mans-racing Jaguar D-type, E-type and potent F-type R coupe through their paces.
John Edwards, Jaguar Land Rover special operations managing director, said, 'This is the first experiential offering from our new division and is the first time in Jaguar's history that we have made a collection of vehicles of this calibre available for 'arrive and drive' experiences.
'It's an extremely exciting new project that begins at Fen End today, underscoring the very essence of what Special Operations is all about – celebrating heritage with our eyes firmly on the future.'
Many of the cars are from the James Hull collection, which Jaguar recently acquired.
A variety of driving packages are available:
Jaguar Experience (ranging from £95 to £250)
From passenger rides to driving alongside a seasoned professional (including some recognisable faces from the world of motorsport), you can choose from individual models – including an XK150 or Mk2 saloon – or selected pairings such as the Series 1 and Series 3 E-type.
Le Mans Experience (£750)
Re-live the experiences of legends such as Mike Hawthorn and Duncan Hamilton for half a day, with drives in the iconic C- and D-types that dominated the world famous 24-hour endurance race in the 1950s. 
Grace and Pace Experience (£2000)
A full day of driving Jaguar Heritage legends, from post-war racers to sports saloons, coupés, roadsters.
For more information visit www.jaguarheritagedriving.com, email bookings@jaguarheritagedriving.com or telephone 0333 577 0156.
Comments
Latest