Limited production run for Callum Mk2 Jaguar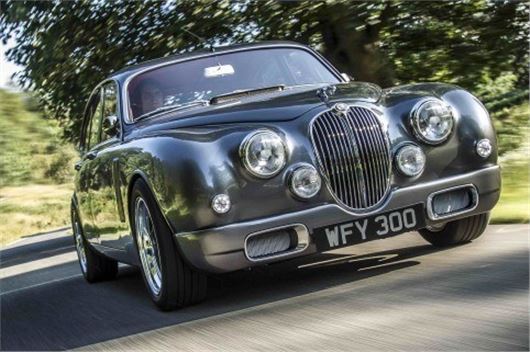 Published 05 September 2014
Prices have now been released for a limited run of the Ian Callum-inspired Jaguar Mk2.
So if, like the design director of Jaguar, you fancy a slightly more up to date version of Coventry's sporting saloon, it will cost you between £350,000 and £375,000.
Bridgnorth-based Classic Motor Cars says it has been inundated with requests for Callum Mk2s from all over the world. Now CMC chairman Peter Neumark says a small production run of the cars will be made to order.
There's no official figure yet on how many will be made, but if you want one then you'll need to wait because each car takes about 3500 man hours to build. That means a waiting time of between 15 and 18 months.
CMC will supply the Jaguar Mk2 and owners can choose their own body and interior colours, and whether or not they want air-con. But that's it – the car will still have the same spec as Callum's, which means a 4.3-litre XK engine fitted with twin SU HD8 2in carbs mated to a five-speed manual gearbox. You can see more detailed specs below.
Neumark said: 'Within hours we had received calls from people all over the globe asking if they could buy one. We asked Ian Callum if we could produce a limited run and he has said "yes".'
Ian Callum said: 'I redesigned the car and CMC rebuilt it and reengineered it for my personal use. I wasn't sure how it would be received but I have been both astounded and delighted with the response. I am pleased that a few more cars are going to be built.'
Here are the specs in full:
Engine and transmission
1. Jaguar inline six cylinder XK
2. Repositioned in chassis to improve lubrication, cooling and fuelling
3. Capacity 4300cc
4. Brake horsepower 260din
5. Torque 280 lbs/ft at 5000rpm
6. Fuel system, twin SU HD8 2 inch carburettors with ram air induction
7. Aluminium radiator with built in oil heat exchanger and electric cooling fan
8. Five speed manual transmission
Exhaust
9. Bespoke twin bore stainless steel system
Steering
10. Rack and pinion designed by CMC with electric power assistance and optimised steering geometry
Fuel tank
11. Designed by CMC with a capacity of 20 imperial gallons
12. Le Mans style quick release fuel cap
13. Fuel unleaded 97 octane
Suspension
Front suspension designed and reengineered by CMC, incorporating:
14. Uprated coil springs, roll bar and wishbone bushes
15. Adjustable dampers
16. Solid subframe mountings
17. Subframe repositioned to improve anti-dive characteristics
Rear independent suspension designed by CMC, incorporating:
18. Uprated coil springs
19. Blade control wishbones
20. Outboard disc brakes
21. Anti-roll bar
22. Adjustable dampers
Braking system,
hydraulic servo assisted
23. Front discs vented 320mm diameter with fully floating single pot calliper
24. Rear discs solid 280mm diameter with fully floating single pot calliper
25. Integral handbrake mechanism, cable operated
Wheels and tyres Interior
26. Torrino split rim 17" diameter wire wheels with polished aluminium rim, hub and spokes body colour
27. Front wheels 6.5" wide fitted with 205/55/17 tyres
28. Rear wheels 7.5" wide fitted with 225/50/17 tyres
29. Jaguar wheel spinners
Body
Monocoque construction as per original Jaguar design with the following changes by Ian Callum:
30. Front and rear bumpers replaced
31. Front wings widened and incorporating wing louvres to extract hot air from the engine compartment
32. Rear wheel spats made in aluminium and reshaped to design
33. Left rear wing incorporating vented panel to extract air from the passenger compartment
34. External bodyline chrome mouldings removed
35. Remodelled exterior door handles
36. Front quarter lights altered and closed
37. Front wing sidelight pods removed, with sidelights incorporated into headlights
38. External mirrors fitted to both front doors
39. Plastic inner wing shields fitted to front wings
40. Boot badge designed by Callum
Ignition and electrical
41. Programmed electronic ignition system 42. Automatic choke
43. 90 amp alternator
44. High torque starter motor
45. Central locking with remote operation on all doors
46. Uprated wiper motor with interval delay 47. Heated front and rear windscreens
48. Quartz halogen headlights
49. Daylight running lights
50. Redesigned front and rear seats, trimmed in the finest Scottish leather
51. Headlining in Alcatara
52. Sun visors in leather
53. Door casings in leather incorporating Callum styling modifications
54. Interior wood in dark oak with piano black edging
55. Ian Callum signature etched into the glove box
56. Instrument faces redesigned by Callum with bespoke badge in rev-counter face
57. Redesigned toggle switch levers
58. Centre console and radio tower as per original specification with incorporated modern audio and satellite navigation
59. Inertia reel seat belts to front and rear seats
60. Modified rear view mirror
61. Wilton carpet throughout
62. Modern heat and sound insulation fitted to the floors and bulkheads
63. Electric time clock mounted in centre instrument panels
64. Stainless steel tread plates to all door apertures front plates with Callum logo
65. Modified heating and ventilation system for enhanced climate control
In car entertainment
66. Clarion NZ502E single DIN multimedia station 16cm flip-out touch screen with built-in multi-lingual navigation, audio and DVD Bluetooth, iPhone and iPod connectivity. Touch screen discreetly retracts when not in use
67. Clarion rear view digital camera
Reversing vision displayed on touch screen
68. Clarion component loudspeakers
Six off, front and rear-mounted, 350 watts output, in specially-designed housings
69. Classic roof mounted aerial
70. Van Damme Blue Series Studio Grade speaker cable Finely stranded Ultra Pure Oxygen Free Copper .5mm2 conductors
As used in the world's top recording and mastering studios, such as Abbey Road


Comments
Author

Keith Moody
Latest