Jaguar Mk2 (1959 - 1967)
Last updated 26 April 2015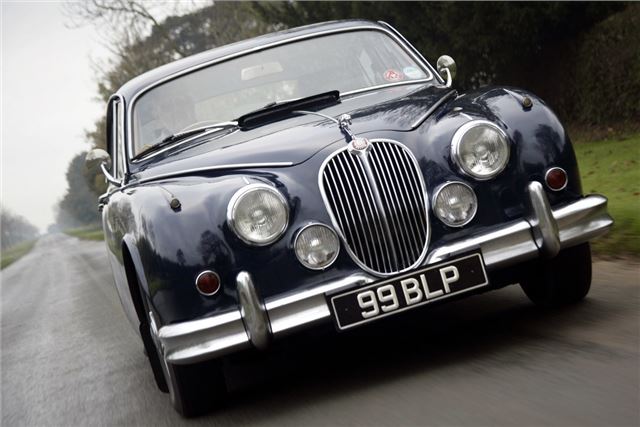 Fast, pretty and good to drive. The definitive sporting Jaguar saloon which they got right (second time). 3.4 and 3.8-litre cars still genuinely quick.
Look for poorly restored examples, and like its predecessor, the Mk1, it's more show than go in 2.4-litre form.
Updated 13 October 1966
Jaguar 420 launched
On 13 October 1966 Jaguar announced the 420 and 420G models. The 420G was a revised Mk 10 while the 420 was a restyled S-type with the quad headlamp look and an addition to the Jaguar range, designed...
Introduction
It's unusual to find a facelifted car that's better looking than the car it was designed to replace. But Jaguar managed this unusual feat, with sports saloon Mk1 replacement. Like all Jaguars to this point (and some way beyond), company founder, William Lyons, was directly responsible for the way it looked - and with the fitment of revised upper door pressings, a deeper windscreen, larger glass area, and wider rear track, the already handsome saloon was transformed.
The additional glass brightened the interior and as well as give the car a more contemporary look. And without resorting to too many cliches, in the process, Jaguar created the most iconic '60s sports saloon of them all. The 2.4 was still less fast than it looked, despite an additional 8bhp over the Mk1, but was a usefully-priced entry-level model.
For the Mk2, the previously top-of-the range 3.4-litre car was now occupying the mid-range slot. Its XK engine had been enough to top the compact saloon range, but that changed with the arrival of the Mk2. But it was this car that really made the most of its forgiving suspension set-up, expoiting the wider front and rear track, and improving road manners. It was heavier than before so the Mk2's performance was slightly down on the Mk1's, but that was addressed by the arrival of the 3.8.
And it's here - with the 3.8-litre Mk2 - that Jaguar created a legent. The new flagship proved popular and profitable for Jaguar. With a 125mph top speed and throttle adjustable handling, the 3.8 became the saloon of choice for enthusiastic drivers. A limited-slip differential improved traction, and power-assisted steering (a standard fitment
from 1960) further improved the way the car drove. Considered the best of all Mk2s and market values reflect this. However, its additional ability (from a modest 10bhp boost) over the 3.4-litre car is probably at too much of a premium in today's market, and (whisper it), the 3.4 is probably the best all-round value/performance package.
Next: Model Timeline
Buy a Jaguar Mark 2 from £4,000