Jim Clark's Lotus-Climax to star at Race Retro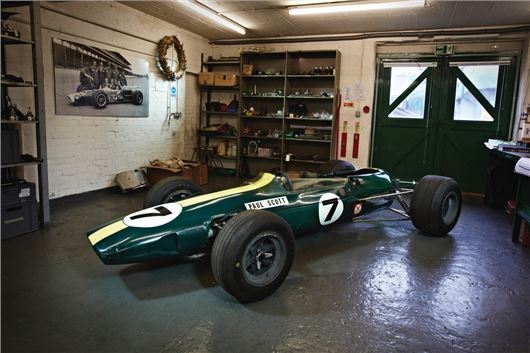 Published 13 January 2017
The Lotus-Climax Type 33 is a nailed-on motorsport icon thanks its victories at the Belgian, British, German and Syracuse Grand Prix at the hands of Jim Clark in 1965. Now, chassis number R11, which scored Clark his second world championship, will make its first public appearance in decades at Race Retro in Warwickshire on 24-26 February.
When the Type 33 made its first appearance in 1964, it represented the peak of monocoque chassis design and Clark's Lotus, the second of six models to be completed, was powered by a 1.5-litre Coventry Climax V8 engine.
Victory at Syracuse in April 1965 commenced R11's racing career and four months later 320,000 spectators at the Nürburgring saw Clark breaking the track record from a standing start on the opening lap before taking the world title. For countless enthusiasts, to see the newsreel footage of the Lotus crossing the finishing line was to witness the culmination of one of the greatest years in the career of any racer.
In 1966, the 33 was fitted with a 2.0-Litre BRM engine, and in the following year, its body and dashboard were modified to accommodate Graham Hill, who drove the Lotus to second place in Monaco.
R11 was then sold to a Canadian privateer and, now fitted with an Oldsmobile V8 plant, was last raced at the Seattle 200 in 1969. After then, it was dismantled and stored before returning to the UK in 1978 when R11 was acquired by its current owner.
At that time, the Lotus' condition was effectively as original and it was then carefully stored for 38 years. Today, R11's custodian believes 'the time has come for it to be returned to its one-time home base' and it is to be refurbished by Clive Chapman (who will be at Race Retro to discuss the project) and his crew at Classic Team Lotus.
The Type 33 will be the centrepiece of the Motor Sport Hall of Fame display at Race Retro – a display that will feature a wealth of stunning racing cars and motorcycles as well as heroes of rallying. Tickets are now on sale at www.raceretro.com
Race Retro
Comments
Author

Keith Moody
Latest