Sir Ray Tindle to notch up 50 London to Brighton runs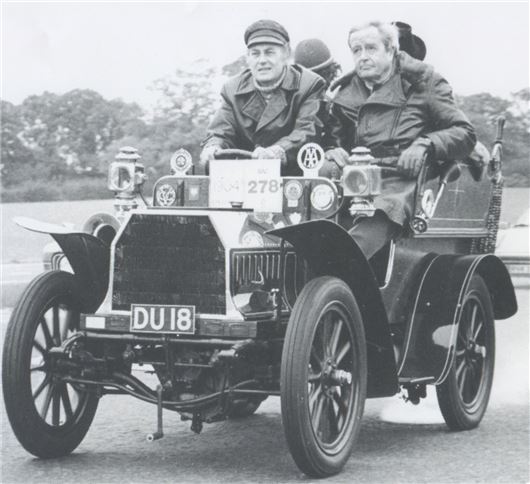 Published 28 August 2013
On Sunday 3 November Sir Ray Tindle will be embarking on his 50th Brighton Run, each time driving his faithful single-cylinder Speedwell Dogcart, a 1904 car that he purchased more than half a century ago to fulfil a childhood dream.

Like so many others, Sir Ray's fascination with the historic 60-mile journey from London's Hyde Park to Brighton's Madeira Drive was originally fuelled as one of the half a million spectators that lined the route. Little did he know that later in life he'd not only own one of those 'wonderful old machines' but be gearing up for his 50th start in the world famous event.
In 2007, Sir Ray purchased a 1903 Georges Richard, which unlike the Speedwell has a closed driving cabin, allegedly to drive if the weather became too wet. But, despite some pretty poor conditions in recent years, it has never yet been bad enough to force Sir Ray to abandon the trusty Speedwell. In 2008 the 'new' Georges Richard was driven by HRH The Duke of Kent who, following a short driving lesson around the Kensington Palace grounds, successfully reached the Seafront in Brighton.
As well as being Sir Ray's 50th start, the 2013 Veteran Car Run is also the 20th successive Run supported by his Tindle Newspaper Group – the business he set up after wartime service with the Devonshire Regiment after buying his first title – the Tooting & Balham Gazette – with his £250 demob payment.
Sir Ray said: 'I can recall the exact spot on Streatham Common where my parents took me to watch these wonderful old machines pass. Of course, then the oldest car taking part was probably only about 30 years old but still totally different from their modern counterparts. I remember thinking how wonderful it would be to ride on one of those cars.'
London to Brighton Veteran Car Run
Comments
Author

Keith Adams
Latest