Gordon Bennett Napiers set to star on London-Brighton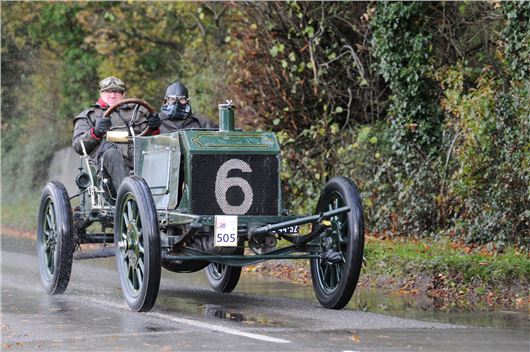 Published 24 October 2013
Three Gordon Bennett Napiers will be lining up to undertake the London to Brighton Veteran Car Run on Sunday, 3 November. It is thought that this is the first occasion all three have taken part at the same time.
The three racing Napiers on the 2013 Veteran Car Run are the 1904 car that crashed in the Cup qualification race and so failed to make the cut. This 100HP 11.1-litre car is now owned by the Dutch Louwman Museum. The 1903 race is represented by the 7.7-litre Napier now owned the National Motor Museum in Beaulieu. Driven by Charles Jarrott, the car crashed and overturned in the race, though thankfully both Jarrott and his riding mechanic Cecil Bianchi survived.
The most successful of the trio is the car that won the 1902 Gordon Bennett Cup. After a racing career in Europe and America, the 30hp, 6.5-litre Napier D 50 was dismantled in the 1920s before being brought back to the UK in the 1990s and restored. It is owned by Argentinian collector Daniel Sielecki.
The Gordon Bennett started in the early 1900s, when James Gordon Bennett, owner of the New York Herald, promoted a series of international road races for teams of cars representing individual nations. In 1902, the race was held between Paris and Innsbruck and was won by a Napier driven by SF Edge. The car, painted green, was the first British car to win an international motor race.
To honour the previous year's winning nation, the 1903 Gordon Bennett Cup was due to move to Britain – but with racing on public roads against the law on the mainland, the event took place in County Kildare in Ireland. Three Napiers were entered to represent Great Britain, each painted green – what we now call British Racing Green – but the best the team could manage was fifth place.
Following this relatively poor showing, a series of qualification events was held for would-be competitors in the 1904 Cup. This attracted no fewer than five Napiers, as well as three Wolseleys and three British-built Darracqs. In the end the British team comprised one Napier and two Wolseleys, but the Cup, held in Homburg, Germany, was another failure for the country. The best-placed British car was ninth while the sole Napier, driven as usual by S.F. Edge, retired just 20 miles from the finish with a seized engine.
'I would like to thank the owners of these very special cars for giving the public a rare opportunity to see them both on display in the Regent Street Motor Show on Saturday and then in action on the Veteran Car Run on Sunday,' said Ben Cussons, Chairman of the Royal Automobile Club Motoring Committee.
London to Brighton Veteran Car Run
Comments
Author

Keith Adams
Latest