Donington Historic details unveiled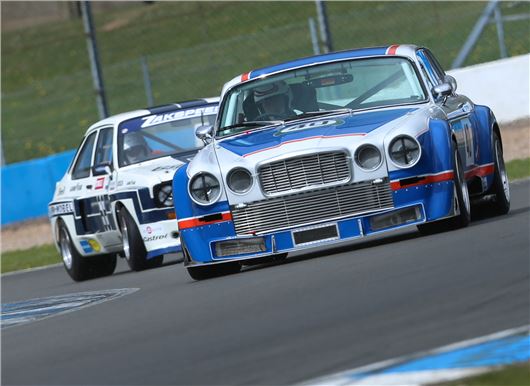 Published 01 April 2014
The Donington Historic Festival (3-5 May) continues to grow, with 2014's event being headlined by not one but two Touring Car races on Saturday, and the Maserati Centenary Challenge on Bank Holiday Monday.
The Motor Racing Legends' Historic Touring Car Challenge for 1966-85 Touring Cars, will be an early highlight, joined by the HRDC 'Celebration of the BTCC' for Touring Cars 1958-1965 providing the finale for that day. In between, the Pre-63 GT will showcase one of the most beautiful and valuable grids of the whole Festival.
Sunday will see the first parts of the Festival's two feature races – the Motor Sport 90th Anniversary Trophy for pre-War Sports Cars, likely to feature Bentley, Bugatti, Alfa Romeo, Aston Martin, Frazer Nash, BMW, Vauxhall, Riley, MG and Talbot. It will be followed by the Maserati Centenary Trophy, showcasing cars from the 1930s to the 1960s powered by engines built by Maserati or OSCA. Full - though provisional - timetable is below.
Advance tickets cost £20 for a single day, £32 for a two-day ticket and just £45 for a three-day weekend ticket (on-the-gate prices will be £25, £40 and £60 respectively). Children aged 13 and under are admitted for free. Advance discounted tickets can be bought via www.doningtonhistoric.com. Advance ticket sales close at 5.00pm on 30 April. 
The provisional timetable is as follows: 
Saturday 3 May
09:10 - 12:45 Qualifying
12:45 - 13: 45 Lunch Break / Parades and Demonstrations
13:45 - 14:15 Qualifying
14:30 - 15:00 Historic Touring Car Challenge for 1966-85 Touring Cars – Race 1
15:15 - 15:40 HSCC Historic Formula 3 – Race 1
15:55 - 16:55 Pre-'63 GT
17:10 - 17:35 HSCC Martini Trophy with SuperSports – Race 1
17:50 - 18:35 HRDC 'Celebration of the BTCC' for Touring Cars 1958 – 1965

Sunday 4 May
09:10 – 10:55 Qualifying
11:05 - 11:30 HSCC Historic Formula 3 – Race 2
11:45 - 12:15 Historic Touring Car Challenge for 1966-85 Touring Cars – Race 2
12:15 - 13:15 Lunch Break / Parades and Demonstrations
13:15 - 14:15 Royal Automobile Club Woodcote Trophy for pre-56 sportscars
14:30 - 14:55 HSCC Martini Trophy with SuperSports – Race 2
15:10 - 15:40 Motor Sport 90th Anniversary Trophy for pre-War Sports Cars Race 1
15:55 - 16:55 U2TC pre-66 under two-litre Touring Cars
17:10 - 17:35 Maserati Centenary Trophy – Race 1
17:50 - 18:50 FIA Masters Historic Sports Car Championship for Le Mans-style sports cars and 'Group 4' cars 1962 – 1974

Monday 5 May 
09:10 – 11:00 Qualifying
11:10 - 11:20 Demonstration Laps
11:30 - 12:00 Motor Sport 90th Anniversary Trophy for pre-War Sports Cars Race 2
12:15 - 13:15 Masters Pre-66 Touring Cars
13:15 - 14:15 Lunch Break / Parades and Demonstrations
14:15 - 14:40 Maserati Centenary Trophy – Race 2
14:55 - 15:55 Stirling Moss Trophy for pre-61 sportscars
16:10 - 16:20 Demonstration Laps
16:35 - 18:05 Masters Gentlemen Drivers Pre-66 GT


Donington Historic
Comments
Author

Keith Adams
Latest