A Grand Monday: Mercedes-Benz E220 W124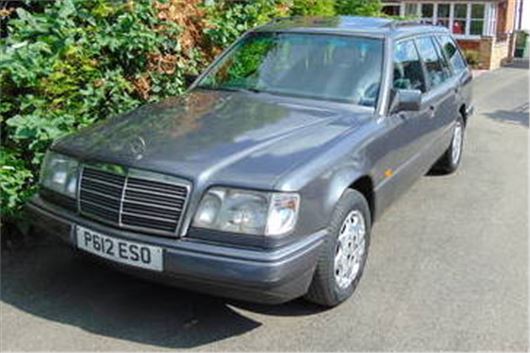 Published 29 May 2017
There are good cars for their era, and there are some truly great ones. The Mercedes-Benz 'W124' E-Class falls into the latter category.
Launched in 1986, it was, at the time (and for quite some time thereafter) the world's best estate car. Beautifully finished, elegant, rugged and durable, with a cavernous load area and a seven seat option, where the rear dickie seat folded flat into the boot floor in a typically teutonic, overengineered manner.
Like all cars, the W124 has its faults. Even when new, the cabin felt austere and old-fashioned - a trait typical of any 1980s Mercedes, and one that, although behind its time, is something that many people find extremely charming. It has seats that you sit on rather than in, the controls are heavy and clunky, the dashboard simple and clearly laid out, but with a no-nonsense design that lacks any kind of flair.
That simplicity, though, is the car's greatest asset. The W124 is a very hard car to break. Indeed, all that really goes wrong, other than routine mechanical repairs, is rust on the front wings and rear wheelarches, which is rarely more than cosmetic, and corrosion to the rear subframe, which is of far greater concern and is largely believed to be the only thing that can realistically kill a W124.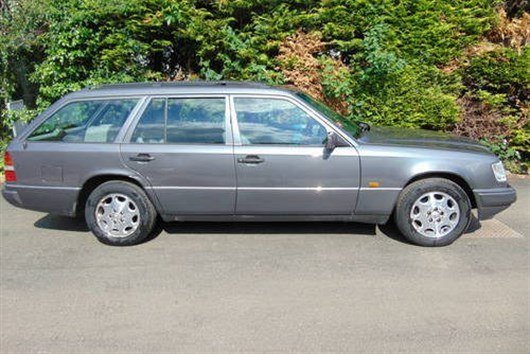 Otherwise, they're bulletproof, and regardless of powertrain will happily swallow up 300,000, 400,000 or even half-a-million miles without faltering.
Because Mercedes struggled to better the W124 (and with its replacement, the W210 E-class, they most certainly didn't), the estate stayed in production until 1997, two years after the saloon was usurped by its bug-eyed successor. Petrol models built from 1993 onwards benefited from new generation engines, which debuted in the C-Class, and our star of the small ads this week is one of them. 
The E220 uses a 2.2-litre four-cylinder unit developing 150bhp. It gives a top speed of 130mph and 0-60mph in 10.5 seconds, which is perfectly adequate, yet it somehow feels slower. The stately driving position, progressive 'organ pedal' accelerator and four-speed auto 'box somehow encouraging you to drive it in a completely unhurried manner. It's quite relaxing as a result, but it won't set the world on fire.
But then, that's not what this car is about. It's about moving goods or families in comfort, dutifully, reliably and in a rather stately way, and it does it all beautifully.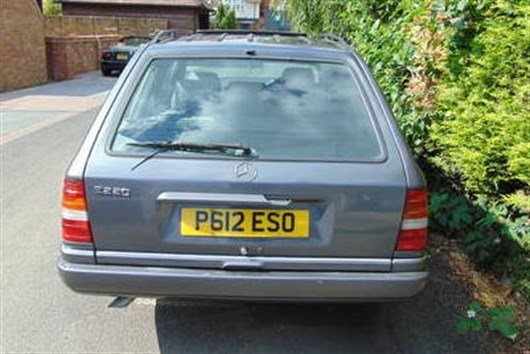 Which brings us on to this example. One of the last, registered on a P-plate. The buyer is quite upfront about it being a Category C write-off. Indeed, apart from some scruffy looking alloys, a large scrape over the driver's side wheelarch appears to be the only real cosmetic defect - and most probbaly the reason for that Cat C. It'd repair easily enough at a good bodyshop, and not too expensively, either, but an insurance repair would have factored in an entire rear quarter panel, which would have run into thousands.
Critically, there are no nasties on the MoT history, suggesting the all-important rear subframe is still sound as a pound. And at 173,000 miles, it's barely run-in.
We're sure it won't be perfect, and we can practically guarantee there'll be stuffing hanging out of the driver's seat bolster, but in pricing terms W124s are on the up, and you'll struggle to find better for £850. Plus, it's the seven seater, and unlike most estates with jump seats, you still get quite a bit of space for your bags, even with the kids in the boot. We don't think this will be sale for long. Indeed, if I didn't already have a near identical one, I'd have bought it myself...
Comments
Author

Craig Cheetham
Latest
Compare classic car insurance quotes and buy online. A friendly service offering access to a range of policies and benefits.

Get a quote