A Grand Monday: DAF 44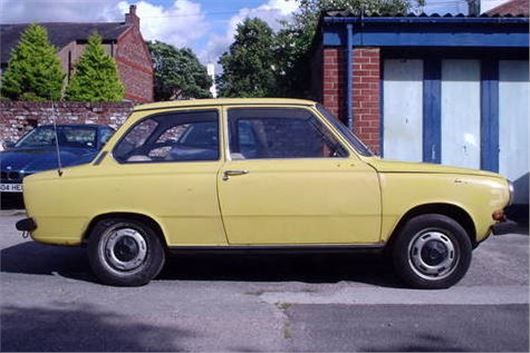 Published 30 January 2017
Today, DAF is Britain's biggest-selling truck brand, and the Netherlands' only domestic vehicle manufacturer. Its trucks are conventional, reliable and earn their keep on motorways across Europe, where they're respected as the standard bearer for what a lorry should represent. 
In truck terms, then, a DAF is like a Ford Fiesta. A default choice. Something sensible, functional, capable and ordinary. It's a far cry from the Dutch manufacturer's car making days, where it offered rear-wheel-drive small saloons.
The original DAF Daffodil from 1959 and its successor, the 33, used a 746cc air-cooled engine, while in 1964 the DAF 44 was introduced, powered by an upgraded 844cc engine developing a heady 34bhp. That may not sound a huge amount, but the 44 was astonishingly rapid, in part due to its light weight, but more because of DAF's pioneering belt-driven continuously variable transmission - the first commercially available CVT system. The gearbox consisted of effectively a giant rubber band, providing drive directly through a rear transaxle, and among its more endearing features was its ability to allow the DAF to go just as quickly in reverse as it could going forwards - quite a party trick if you have the courage.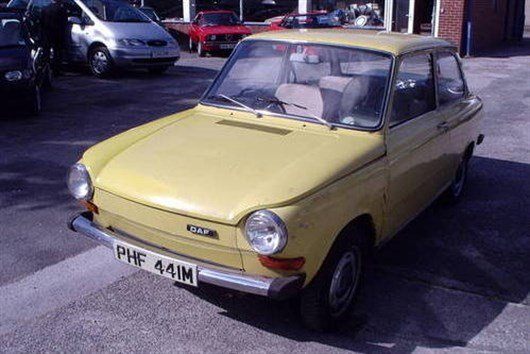 The tail-happy handling, direct drive transmission and eminent tunability of the air-cooled engine also gave the little DAF a reputation as quite a fun rally car, and it went on to become a regular class winner on the world stage - even today, it's a popular historic rally car choice.
This car, currently for sale on Merseyside, clearly isn't ready for the road, but it's a fabulous project. Supplied new by the garage that's selling it (a former DAF dealer) in 1974 - the penultimate year of 44 production before DAF cars were absorbed into the Volvo empire - it was bought back by the vendor in the mid-1990s and has spent the past 20 years languishing in a garage building. 
As such, it has only covered 50,000 miles from new, and although the Mimosa Yellow paintwork looks a bit flat, there's a good, solid bodyshell beneath it. Obviously it needs a thorough mechanical overhaul, which isn't too onerous a task on one of these, as well as new brakes and tyres - but overall it looks like a relatively straightforward (or straight backward) project. At £950, it's a very sensible price for a car with such provenance, and promises to be a rewarding one to revive.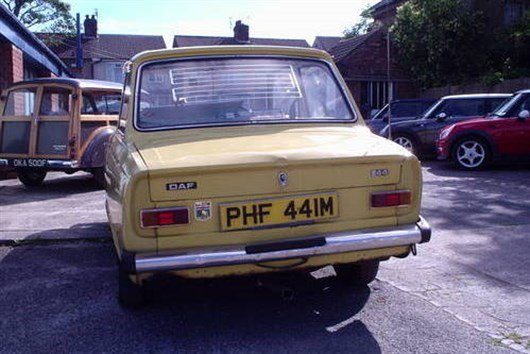 Comments
Author

Craig Cheetham
Latest