A Grand Monday: Tempting Mazda Eunos for £1295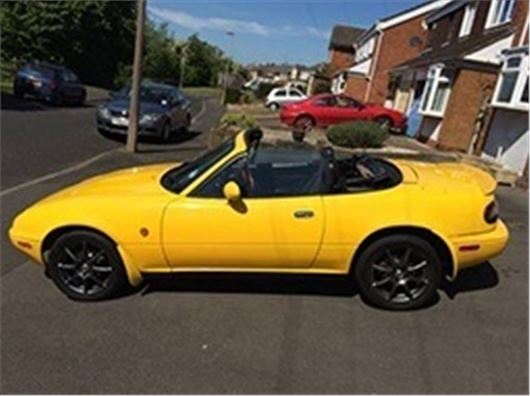 Published 30 March 2015
Trying to find a convertible classic for a grand can be great fun. But at this price, you'll need to be realistic about what you're getting (i.e. a short summer romance rather than a new long-term partner).
We found this 1990 Mazda Eunos for sale at £1295 – slightly over our £1000 budget, but you never know what can happen if you haggle.
A nice early car, it comes with the less-desirable (although no less fun) 1.6-litre engine. Depending on who you speak to, these not as strong as the 1.8-litre.
But it's still a super-reliable Japanese engine, so don't worry too much. And you'll still get an powerplant that can smoothly rev past 7000rpm. You might even get a car that's better equipped, because many of these Japanese imports got air-con.
And as they spent some of their early life in salt-free Japan, rust is less likely to be an issue. Still got your heart set on a 1.8-litre? Good. Now let's move on...
This one looks like it's in very good condition – it has an MoT until August and has clocked up 98,000 miles.
According to the seller, it's had new discs and pads all round plus all four wheels aligned, as well as a set of new tyres.
One thing to be aware of, though – this is a Catagory D write off.
That means that the car has accident damage and the insurance company deemed it uneconomical to repair. With cars of this age (and low value), however, that can often mean just light panel damage.
The seller says it has been checked over, but you'll need to satisfy yourself that the repair work has been done to a high standard.
If you can, then you could bag yourself a rust-free soft-top for summer for just over a grand. 
Comments
Author

Keith Moody
Latest