A Grand Monday: Isuzu Piazza Turbo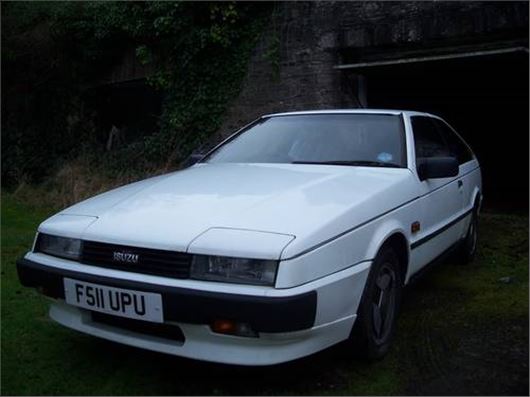 Published 04 August 2014
Great styling. Powerful turbocharged engine. Handling by Lotus. Seriously, what's not to like about the Isuzu Piazza Turbo? If you're after an Eighties super coupe, these cars still represent great value for money – although you'll need to get in on the action quickly as values can't stay this low for long.
Conceived in the Seventies to replace the 117 Coupe, the Piazza was penned by Italian Giorgetto Giugiaro. After making its debut at the 1979 Tokyo Motor Show, the car went on sale in Japan in 1980, although the UK wouldn't get the car until 1985.
When it finally arrived, it was only available with the 147bhp 2.0-litre turbocharged engine. But despite a cracking powerplant, the Piazza didn't get off to a great start as the first importer, Isuzu GB, went out of business a year later. The remaining stock was bought by dealer Alan Day before International Motors was awarded the Isuzu franchise in 1987.
Worse was to come when the British motoring press got hold of the car. With an antiquated live rear axle set up, the handling was poor and the car received negative reviews. Luckily, help was on hand in the form of Lotus, which improved the Piazza with a modified suspension layout - bigger brakes, specially produced dampers and Goodyear tyres.
With so few on the road these days, would-be Piazza buyers have to patient. This Isuzu Piazza Turbo we've spotted for sale in the classifieds looks like it would make a great project for an enthusiast. It has the all-important Lotus handling package and has covered just 79k miles. Currently on SORN, it has an MoT until February 2015 and is up for £1750.
According to the advert, 'It all works, even the subtle headlight lifters.' Most of it looks standard, although there is a sports air filter and stainless-steel back box.
The seller adds, 'The car has all of its original handbooks and every MoT certificate from new. IPTOC, which is the owners' club for this car, have known the vehicle for many years and supplied many parts over its lifetime. It has had five keepers prior to me, all of which have been long term.'
But what about the rust? We're told the only noticeable bits are on the tailgate and that there's a small bit by the fuel flap; the vendor thinks this car has been rust-proofed since new.
So why sell? 'I have owned the car since December 2011. It was bought as a running vehicle and I've done less than 400 miles in it since buying it. I travelled to London and back to get it, and drove it occasionally for a few months trouble free.'
If we were buying it, we'd want to get to the bottom of why it's had such little use – cars that cover low mileages can come with their own challenges. If you're satisfied with the answer, though, this is a great chance to own a true forgotten gem.
Isuzu Piazza Turbos in the classifieds
Isuzu Piazza: how many survived?
Comments
Author

Keith Moody
Latest