Take a break: London to Bath in 1963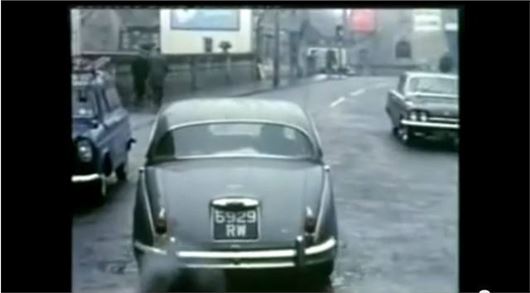 Published 11 February 2014
Got five minutes to spare? Then take a break, and watch this absolutely fascinating footage of Mr G Eyles of Institute of Advanced Motoring. London to Bath taking a journey to Bath from London in 1963. Along the way, we see Reading, Theale, Newbury, Hungerford Marlborough, Calne and Chippenham from the wood and leather cabin of his Jaguar Mk2.
In true IAM style, Mr Eyles gives continuous commentary of the jounrey, which really highlight the differences between the roads - and driving attitudes - in 1963 and today. There are some lovely moments, such as dealing with a lane hogging Sunbeam Rapier driver on a two-lane stretch of the M4. The use of headlamps and horn to encourage him to move over, evoked the inevitable V-sign. To which, Mr Eyles quipped, 'I can't think why he should think that I'm interested in his politics.'
Note also the way the roadss have radically changed since this film was shot. The 'new motorway', which then ended in Maidenhead now wends its way all the way to Wales, and that would now be the favoured route for this journey, rather than the old A4 in this film. Simpler times, but were they better?
Comments
Author

Keith Adams
Latest