Ex-Moss and Jenkinson 300SL to be sold by Bonhams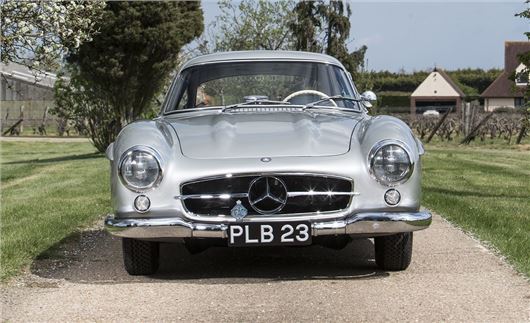 Published 09 May 2014
Bonhams is to offer at auction one of the earliest surviving and most significant of all Mercedes-Benz 300SL Gullwings at its inaugural Mercedes-Benz Sale on 12 July at the Mercedes-Benz Museum in Stuttgart, Germany.
Its history is impressive - it was the model-launch vehicle displayed by Daimler-Benz at the 1954 Paris Salon de l'Automobile exhibition, was the 1955 London Motor Show car displayed at Olympia, and it was also the 1955 road test car featured in the The Autocar magazine. 
But most significantly, the car was used by Stirling Moss and Denis Jenkinson during course reconnaissance for the 1955 Mille Miglia round-Italy road race. And it was this run that sowed the seeds for their fantastic victory in the event on 1 May 1955. The new Mercedes-Benz team of open-cockpit 300SLR sports-prototype cars simply destroyed their Ferrari and Maserati opposition to dominate the Mille Miglia, scoring a 1-2 triumph, with Stirling Moss/Denis Jenkinson winning from reigning Formula 1 World Champion Juan Manuel Fangio.
Moss credited much of his extraordinary victory to navigator 'Jenks' who, for the entire 1000 miles, had been able to warn Stirling, '…of corners that could kill us, and of opportunities to stay flat-out and so save time'. And their knowledge had been accumulated from the painstaking reconnaissance runs in the car that's now for sale. 
James Knight, Group Motoring Director at Bonhams said: 'This is arguably the most historic 300SL Gullwing extant and is the latest consignment to the auction at the Mercedes-Benz museum in Stuttgart. We have a few spaces left, and those final entries are invited for what promises to be a very memorable sale.'
For more information, visit the Bonhams website.
Comments
Author

Keith Adams
Latest