James Hunt's Hesketh under the hammer in Monaco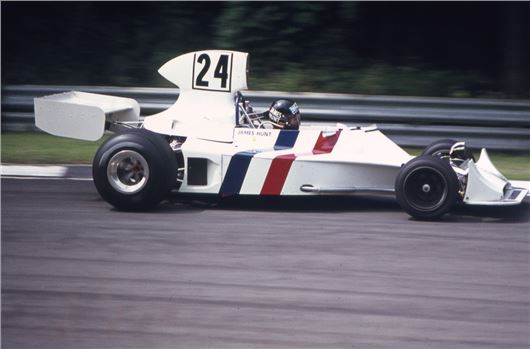 Published 04 February 2014
The Hesketh 308-01 as raced by Formula 1 world driver's champion, James Hunt in the 1974 International Trophy, will be going up for auction at RM's sale, held during the Grand Prix de Monaco Historique weekend, which takes place from 9–10 May 2014. It's the only Hesketh F1 car to win a world championship race.
The car, which gave James Hunt his shot at the big time was run by one of the most interesting teams to hit the Formula 1 paddock during the 1970s. Hesketh Racing was formed in 1972 by the British Peer, Lord Alexander Hesketh. After two seasons of racing in lower formula, Hesketh commissioned Harvey Postlethwaite to design and construct an all-new, bespoke car in which Hesketh's lead driver, James Hunt, could contest the 1974 Formula 1 World Championship. Run on a budget, and powered by the same Cosworth DFV as pretty much all the UK-based teams, most commentators predicted slim results for the Hesketh 308 in its first season.
But this view was to quickly change when Hunt took to the track at the start of the season, as Postlethwaite had designed a nimble car that could make the most of his considerable talents. Four Hesketh 308s built, of which the car being offered for sale, chassis no. 308-1, is both the first and, arguably, the most significant. Chassis 308-01 made its debut appearance at the 1974 Brands Hatch Race of Champions, where Hunt surprised the paddock by placing the car on pole position; but the race itself ended up proving less successful, as Hunt spun off and retired on lap four.
Two weeks later, 308-01 started its first grand prix in South Africa, where Hunt ran in fifth position for much of the race, until he retired with a mechanical failure. Hunt again took the car to pole position, followed by victory, at the International Trophy race at Silverstone. This was Hesketh's first and only Formula 1 win. The car was taken to most championship rounds during the 1974 season, serving as either the race- or T-car. Chassis 308-01 is also the car in which Hunt started the British Grand Prix at Brands Hatch, before spinning out on the second lap of the race.
The car is estimated to fetch €400,000–€650,000 at RM's 2014 Monaco sale.
Hesketh 308-01 Race History
 
 
 
 
 
 
 
Date
Race
Drivers
Entrant
Result
17.3.1974
Race of Champions
James Hunt
Hesketh Racing
DNF
30.3.1974
GP South Africa
James Hunt
Hesketh Racing
DNF
7.4.1974
International Trophy
James Hunt
Hesketh Racing
1st
28.4.1974
GP Spain
James Hunt
Hesketh Racing
T-car
12.5.1974
GP Belgium
James Hunt
Hesketh Racing
T-car
23.6.1974
GP Netherlands
 
Hesketh Racing
T-car
7.7.1974
GP France
James Hunt
Hesketh Racing
T-car
20.7.1974
GP Great Britain
James Hunt
Hesketh Racing
DNF
4.8.1974
GP Germany
James Hunt
Hesketh Racing
T-car
18.8.1974
GP Austria
Ian Scheckter
Hesketh Racing
DNQ
 
 
 
 
 
Date
Race
Drivers
Entrant
Result
12.1.1975
GP Argentina
James Hunt
Team Hesketh
T-car
26.1.1975
GP Brazil
James Hunt
Team Hesketh
T-car
13.4.1975
International Trophy
Alan Jones
Harry Stiller Racing
7th
27.4.1975
GP Spain
Alan Jones
Harry Stiller Racing
DNF
11.5.1975
GP Monaco
Alan Jones
Harry Stiller Racing
DNF
25.5.1975
GP Belgium
Alan Jones
Harry Stiller Racing
DNF
8.6.1975
GP Sweden
Alan Jones
Rob Walkers Custom Made Racing
11th
3.8.1975
GP Germany
Harald Ertl
Team Hesketh
8th
17.8.1975
GP Austria
Harald Ertl
Warsteiner Brewery
DNF
7.9.1975
GP Italy
Harald Ertl
Team Hesketh
9th
RM Auctions: Monaco classic car auction
Comments
Author

Keith Adams
Latest