Reliant Kitten Stars in Friday's 'Flipping Bangers'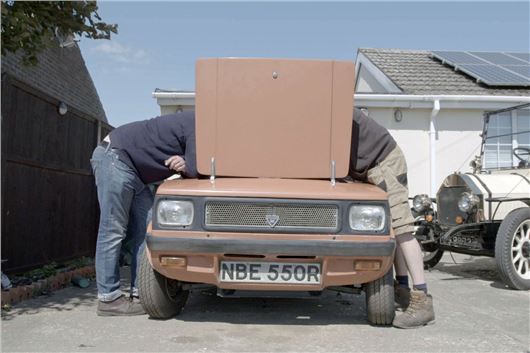 Published 17 June 2019
This subject of this week's 'Flipping Bangers' on Blaze at 9pm on Friday is a car most people have never even heard of.
Reliant Robins have been ridiculed since they first appeared. So, stung to the core by this, the Reliant company decided to put a 4th wheel on its little cars. The Kitten was Reliant's first four-wheeler.
Will Trickett and Gus Gregory were intrigued, so buy a Kitten just £1,030 reckoning it must be worth £2,000 plus once they fix it up.
But to do that they need to rebuild the suspension, find rare parts, re-attach the fibreglass body to the chassis and that's only the start.
The guys seek custom carpet sets and unusual ball-joints from a garden-shed parts business. They drum up Internet auction interest in the rare car by the time they're finished, but will it give them enough profit to pay for their work?
The 10-part exclusive series of Flipping Bangers showcases transformations of classic cars from the iconic VW Beetle to the much-loved Morris Minor. Other popular classic models such as the MG Maestro and BMW Z3 get the treatment as Gus and Will hope to turn a banger into a sizzler. 
The 10-part series Flipping Bangers premieres every Friday at 9pm on BLAZE.
BLAZE is available on Freeview 63, Freesat 162, Sky 565 and Virgin Media 216.
Comments
Author

Honest John
Latest