Edd China to Launch his Life Story at Beaulieu Spring Autojumble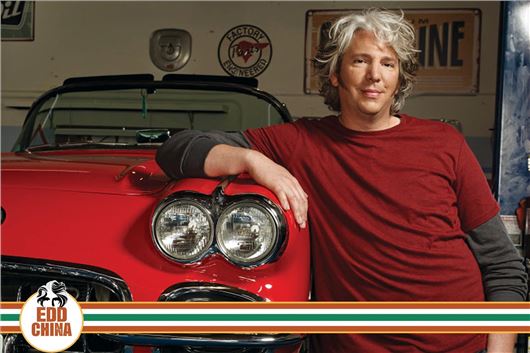 Published 08 May 2019
Much-loved ex-'Wheeler Dealer' mechanical guru Edd China is to launch his life story 'Grease Junkie - A book of moving parts' at the Beaulieu Spring Autojumble on Saturday 18th May. 
Beaulieu visitors can meet the presenter and wacky motoring inventor from 2-5pm on the stand of event media sponsor Practical Classics and chat to him about his remarkable career and off-the-wall projects. Edd's incredible motorised shed, road-legal bathroom suite and a taxed and MoT'd double bed were recently stars of Beaulieu's Wacky Record Breakers exhibition. 
The 25th Spring Autojumble continues with an engine start-up of the newly restored Costin-Nathan racing car prototype at 3pm on 18th May. At the wheel will be its original creator and racing driver Roger Nathan.
The hand-built racer, which became a David that slayed Goliath on the competition track 50 years ago, was the brainchild of Nathan and automotive engineer Frank Costin. Nathan beat the big race teams by winning the 1966 Coupes de Paris race at the Montlhéry circuit in the unique car. After being sold, the Costin-Nathan was later rediscovered in 2016 and bought at auction by its new American owner, who commissioned Nathan to restore it. After the unveiling, the new exhibit will go on display in the National Motor Museum.
The Beaulieu Spring Autojumble continues across the weekend of Saturday 18th and Sunday 19th when bargain hunters can scour 1,000 stands packed with classic car parts, motoring literature and automobilia bargains and even perhaps find a dream car amongst the range of classics for sale in Automart and Dealermart. 
More features include the Mini 60 display: a timeline of every major milestone in the classic Mini's lifespan from 1959 to 2000. The Mini Cooper Register display will bring together a wide range of Minis, with more than 40 rare and remarkable examples already confirmed to join the display including an ex-BMC Works rally Mini, Mini Cooper police car, Mini vans and pick-ups, an Italian-built Innocenti Mini Cooper and the luxurious Radford Mini used in the 1966 BBC TV series Adam Adamant.
Event sponsor Practical Classics will join the Mini celebration by bringing its own project car, a 1968 Austin Mini estate that has been off the road for more than 40 years. See this tiny time-warp car and chat with the team about their latest project.
Another automotive star of the Practical Classics stand will be the 1959 Standard Ten Gold Star that was saved from certain destruction in Ford's scrappage scheme. This low-mileage family saloon, known as Bluebell, captured the hearts of thousands of classic car enthusiasts who joined a campaign to overturn its destruction order. Newly returned to the road and making its Beaulieu debut at the show, the Standard will stay on display in the National Motor Museum throughout the summer.
The Dorset branch of the Morris Minor Owners' Club will return to the show with its popular display: MoggyFest, while the Morgan Sports Car Club and Wessex Car Club will both showcase an impressive selection of members' vehicles.
On Sunday 19th May, enthusiasts can enjoy Beaulieu's Land Rover Rummage as everything Land Rover-related is bought, bartered, swapped and sold in a section of the show dedicated to Britain's favourite 4x4.
Also on Sunday, Trunk Traders is a popular treasure trove for surplus spares, tools, books and automobilia.
One-day and two-day Spring Autojumble tickets can be bought in advance online, with a final chance for discounted online tickets until 5pm on Thursday 9th May. For tickets and full details see www.beaulieu.co.uk/events/spring-autojumble or call 01590 612888.
Event tickets include entry to the whole Beaulieu attraction, including the National Motor Museum with its new Chitty Chitty Bang Bang 50 Years exhibition, World of Top Gear, On Screen Cars, the ancestral Montagu family home of Palace House, 13th century Beaulieu Abbey and the grounds and gardens.
Exhibitors and Trunk Traders can book their stand online at www.beaulieu.co.uk/events/spring-autojumble/exhibitors or contact the Beaulieu Events team at events@beaulieu.co.uk or on 01590 614614.
25th Beaulieu Spring Autojumble Fact File
The first Spring Autojumble in May 1994 featured 600 stands, which has almost doubled today.
Extreme weather conditions meant the show was once cancelled in 2001, making 2019 not only the 25

th

 anniversary but also the 25

th

Since the first year, club car displays and the Automart – offering classic cars for sale – have been a key part of Spring Autojumble.
In 1994, special features included a display by motoring artists and a classic concours competition.
The show has changed names several times over the years from the initial Beaulieu Spring Classic Autojumble, to Beaulieu Spring Autojumble, Beaulieu Spring Motormart & Autojumble, Beaulieu Motormart Autojumble, then back to Beaulieu Spring Autojumble!
Trunk Traders and Dealermart were popular new features added to the event in 2006.
In 1997 the National Motor Museum had its own garage sale at the show, selling off surplus automobilia, vintage tools and period garage items left over from the creation of Jack Tucker's Garage display in the museum.
Comments
Author

Honest John
Latest