Jaguar reveals electric E-type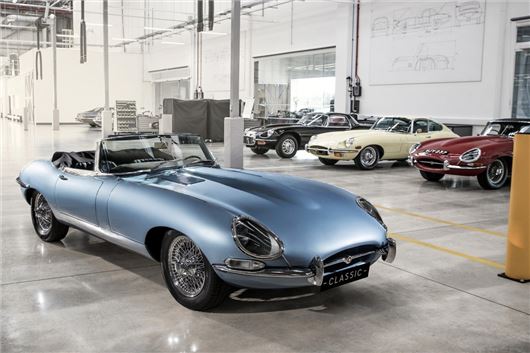 Published 07 September 2017
An all-electric E-type has been revealed by Jaguar Land Rover Classic. The 1.5 Series roadster, known as E-type Zero, has been restored and converted by the Works team in Coventry.
It's new powerplant means it's quicker than an original E-type. Going from standstill to 62mph takes 5.5 seconds - about one second quicker than a Series 1 E-type.
Tim Hannig, director, Jaguar Land Rover Classic, said: 'Our aim with E-type Zero is to future-proof classic car ownership.'
He added, 'We have integrated the new electric powertrain into the existing E-type structure, which means a conventional engine could be reinstalled at any point.' And the technology can be used with any classic XK-engined Jaguar.
The 220kW electric powertrain developing has been specially designed for the E-type Zero. Its lithium-ion battery pack has the same dimensions, and similar weight, to the XK six-cylinder engine used in the original E-type.
The team responsible for developing the electric powertrain have ensured it will be placed in precisely the same location as the XK engine. The electric motor (and reduction gear) lies just behind the battery pack, in the same location as the E-type's gearbox. A new propshaft sends power to a carry-over differential and final drive. Total weight is 46kg lower than the original E-type.
Using an electric powertrain with similar weight and dimensions to the outgoing petrol engine and transmission means the car's structure, including suspension and brakes, has not changed, simplifying the conversion and homologation. It drives, handles, rides and brakes like an original E-type. Front-rear weight distribution is unchanged.
The XK six-cylinder engine was made from 1949 until 1992, and was fitted to nearly all iconic Jaguar models of that period, including the E-type, XK120, Mk2 and XJ6. The new electric powertrain could be used in any of these vehicles.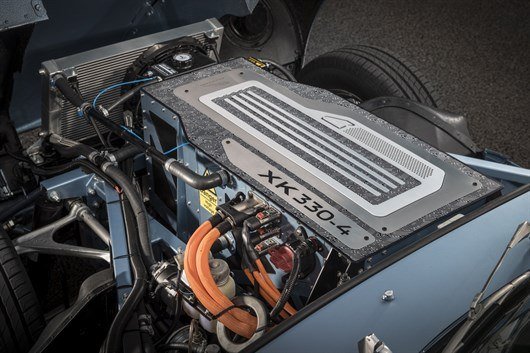 No official price has been released, but expect to pay about £300k for an E-type Zero when the order books open.
The E-type Zero has a 'real world' range of 270km (about 170 miles), helped by the low weight and good aerodynamics. It uses a 40kWh battery, which can be recharged from home overnight (typically in six to seven hours, depending on power source).
The Jaguar Land Rover Tech Fest, where the electric Jaguar E-type is unveiled, is being held at Central Saint Martins, University of the Arts London from 8-10 September.
Comments
Author

Keith Moody
Latest