Classic cars over 40 to be exempt from MoT testing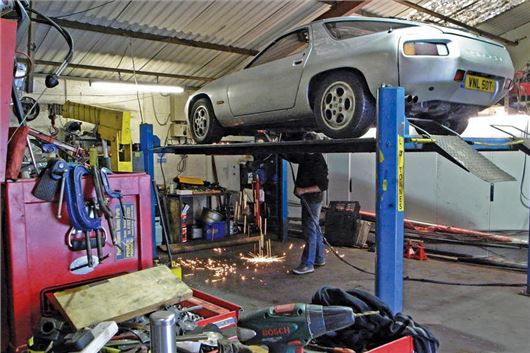 Published 14 September 2017
Cars over 40 years will be exempted from MoT tests - despite a government consultation that showed more people were against the idea than in favour of it.
Under the new rules, cars built up to 1977 will no longer be subject to the annual roadworthiness test, with the rolling exemption continuing each year in line with exemption from road tax. The move takes effect from May 2018.
The government decided to press ahead with the exemption despite more respondents to the consultation opposing rather than supporting the move (1130 v 899).
According to government figures, the move means that around 293,000 more vehicles (1% of the total UK car parc) will qualify for exempt status, on top of the 197,000 pre-1960 cars that are already MoT exempt.
The move means that cars such as the Porsche 928 and Rover SD1 3500, both of which were introduced in 1977, will become MoT exempt, despite having powerful V8 engines.
Jesse Norman MP, Parliamentary Under Secretary of State for Roads, Local Transport and Devolution, said: "After considering the responses, we have decided to exempt most vehicles over 40 years old from the requirement for annual roadworthiness testing.
"This means lighter vehicles (such as cars and motorcycles) and those larger vehicles such as buses which are not used commercially. Heavy Goods Vehicles and Public Service Vehicles falling under operator licensing regulations will remain within the scope of roadworthiness testing.
"This will ensure a proportionate approach to testing for older vehicles, which works for public safety and vehicle owners."
However, vehicles that still earn their keep during commercial operation, such as heritage buses and commercials, will still need to undertake the test, as will those that have been 'substantially changed', though the government is yet to determine exactly what that term might mean.
"We do not propose to set out in legislation a definition of 'substantial change'," added the minister. But we will be including this in guidance so that it can remain more flexible and responsive."
The 40-year exemption was selected ahead of other proposals, which included changing the cut-off date to 30 years, introducing biennial testing and a more basic roadworthiness test for older cars, the latter of which gained most support during the consultation period.
Enthusiasts who wish to get their cars MoT tested, if only for their own peace of mind, will still be able to do so, but the test will no longer be a legal requirement.
Comments
Author

Craig Cheetham
Latest
Compare classic car insurance quotes and buy online. A friendly service offering access to a range of policies and benefits.

Get a quote