Museum to host day for classic car 'virgins'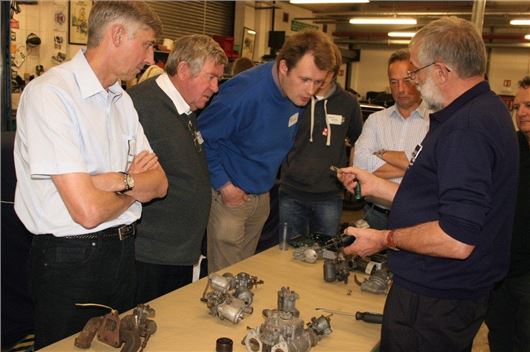 Published 16 August 2016
If you've always dreamed of owning a classic, but are afraid of taking the plunge then don't worry – help is at hand. The British Motor Museum is running a day specifically aimed at classic 'virgins' in October.
The popular event offers practical advice for anyone considering buying, running, or enjoying an older vehicle. There's even a hands-on workshop session offering basic maintenance tips. Tickets for the event on Saturday, 1 October, cost £90 (including lunch and refreshments), but you'll have to hurry as spaces are limited.
It's all part of the British Motor Museum's autumn program of events, which also includes topics on photographing and drawing classic cars. Each course includes entry to the Mmuseum so participants can visit the extensive car collection.
'Drawing from Automotive History' takes place on Saturday, 24 September, with art teacher Richard Cook. The day is designed to suit sketchers of varied abilities. The course will cover basic drawing hints and tips, rules of composition, finding a new angle, drawing metal and painted textures. The cost is £37 per person.
'Automotive History in Watercolour' takes place on Saturday, 5 November. It looks at painting techniques, understanding colour, shade and light, as well as basic composition and finding a new angle. It costs £37.
'Cars through the Lens' will take place on Saturday, 22 October, with motoring photographer and Land Rover enthusiast Lara Platman. The workshop will help you take the perfect photograph of a car and learn when and how to use different settings on your camera. Topics covered will include how to control light and composition, the rule of thirds and perfect angles. The cost is £40 per person, including morning coffee.
Building on this is the  'Lights, Camera, Cars' event, which takes place on Sunday, 23 October. This course focuses on experimenting with lighting and flash guns. The cost is £60.
'Cars through the Lens goes Studio' which takes place on Saturday, 12 November. The workshop enables participants to develop their photographic techniques in a studio, showing them how to achieve the best composition and lighting and costs £60.
To find out more information please visit the website at www.britishmotormuseum.co.uk  or to book a place please call  01926 927823.
Comments
Author

Keith Moody
Latest