Pop-up classic car show for poorly enthusiast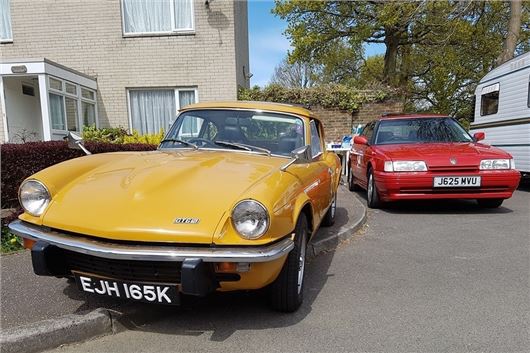 Published 11 May 2016
As the proud owner of a Triumph Herald Convertible and an early Austin 1100, 70-year-old Roy Webb likes nothing more than attending classic shows and events around the UK. But the onset of ill health in January of this year, and the subsequent diagnosis of lung disease, made the 2016 show season just a distant dream for Roy – until his son came up with the idea of a pop-up event at home.
'I thought that if Dad can't get to any events, the least I could do was set up a show on his doorstep,' explains Alan Webb-Moore. 'He's currently unable to walk very far and is on oxygen at all times, which has hit him – and the family – very hard. It's heartbreaking to see a man who has been so active now virtually housebound and fighting for breath.'
Alan set up a secret Facebook group, inviting friends and fellow classic enthusiasts to attend an event at Roy's home address in Crawley, West Sussex, at the beginning of May. The neighbours also got involved, agreeing to move their cars from their driveways for the entire morning, enabling the 1970s cul-de-sac to be taken back in time. With a large grass and woodland area at the end of the road also being taken over by classics, a total of forty cars were eventually accommodated.
'Dad had no idea about the event,' says Alan, 'but suddenly heard lots of commotion outside and wondered what was going on. Mom told him he'd better go and have a look, and when he went to the door he was greeted by a loud cheer. It's true to say he had a tear in his eye, as did I.'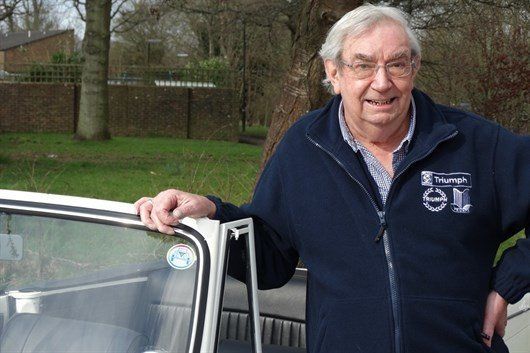 Triumph enthusiast Roy Webb - before ill health took hold.

Alan was overwhelmed by the support from fellow enthusiasts, with classics and their owners arriving from far afield. Among the forty vehicles in attendance were a Rover P4, a brace of Ford Zodiacs, a Chevrolet Corvette, various Morris Minors, an Austin Maxi, an MGB, a Rolls-Royce Silver Shadow, a Volvo 66 and 244, a MkI Escort, an MG Metro an even a rare Colt Sapporo.
To give the pop-up show even more purpose, Alan began a collection on behalf of the British Lung Foundation and – with the help of a Just Giving online page – has so far raised an impressive £800-plus for the charity.
After the event, Roy commented, 'I don't think Crawley has seen anything like it before. It was such a big surprise, and even the weather was kind. It was great to see so many friends and people who I hope will become friends.'
Comments
Author

Paul Guinness
Latest