Haynes museum curator steps down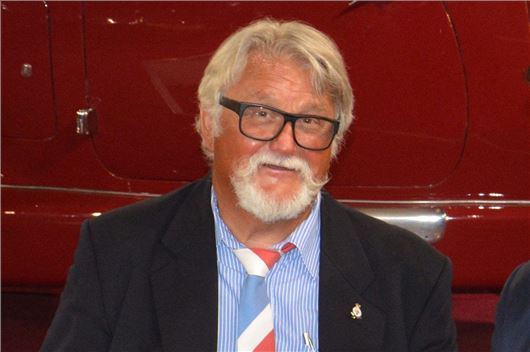 Published 15 June 2016
The curator at Haynes International Motor Museum has stepped down after 31 years of service. Micheal Penn was the very first member of staff when the museum opened in 1985.
In the early days, his work hats were many and in any one day his duties would include general manager, curator, caterer, bookshop assistant and receptionist.
As the museum grew he was able to focus on his passion for curatorial work and building the collection. Numerous visits across the globe saw him source an eclectic mix of vehicles from the rare and precious to the more easily recognised.
On Thursday, 9 June, the museum hosted a lunch for nearly 200 guests to help Penn celebrate his retirement.
A painting of the 1936 Auburn 852 Speed was Penn's retirement gift.
Christopher Haynes, the museum's CEO, thanked Penn for all his efforts over the past 31 years and said Penn's legacy was easy to see.
Haynes said, 'Today the museum boasts well over 100,000 visitors annually, as well as hosting a large and ever increasing number of conferences and all types of events.
'The Education Centre is always buzzing with children who visit from many local schools and the Workshop and Restoration Centre have built up an enviable reputation for their excellent work on a broad range of marques including Aston Martin, Ferrari and Jaguar to name but a few.'
But despite his retirement, Penn said he had no plans to slow down.
'I will not be hanging up my museum boots yet as I will remain on the museum board of trustees as well as the board of trustees of the British Motorcycling Heritage Trust. I also continue in my role as the chairman of the World Forum for Motor Museums.'
Comments
Author

Keith Moody
Latest