Wheeler Dealers back in May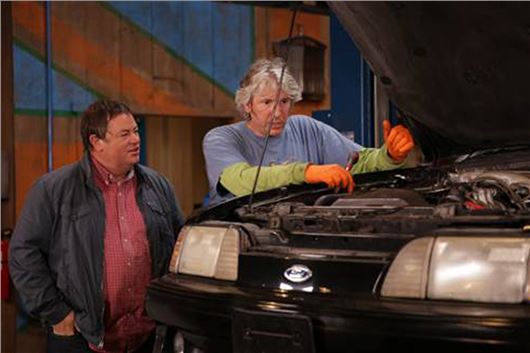 Published 31 March 2016
An all-new series of Wheeler Dealers starts on Monday 9th May on Discovery channel at 9pm, replacing Misfit Garage.
Set in California for more reliable filming conditions, the dynamic duo of Mike Brewer and Edd China hunt out, restore and sell 8 cars, 7 of which they have never tackled before. It's a brand new season, but the goal remains the same: find classic motors needing work, renovate them and then try to sell them on at a profit.
In the Wheeler Dealer workshop, Edd casts his expert eye over each car and transforms them into safe, saleable runners, tackling bodywork, paint, mechanics, electrics and performance upgrades. Of course, this doesn't always run smoothly as Edd is forced to work on cars that are often decades old, and where Mike's desire to score profit has increased the risk of mechanical trouble.
In the new series, the boys get eco-friendly with the original CVCC powered 1977 Honda Civic; rescue a neglected and extremely rusty Land Rover series IIa; transform a gigantic Hummer H1 into the ultimate camping accessory; and put some performance into an emasculated 1988 Ford Mustang 5.0.
When the repairs are complete, the lads hit the road to test the renovated rides before Mike tries to sell them at a profit. From the massive oily challenge of rebuilding an engine to fixing tiny items like a rev-counter, no one knows how to transform a rust bucket to a dream machine like the Wheeler Dealers.
The brand new season of Wheeler Dealers has its world premiere in the UK on Discovery Channel, 9pm, Monday 9th May (Sky 520, Virgin 250, BT TV 322, TalkTalk 322)
Cars featured in the new series:
·         1977 HONDA CIVIC
·         1988 FORD MUSTANG 5.0
·         1987 MERCEDES 560SL
·         HUMMER H1
·         1963 VOLVO PB544
·         1980 CHEVY LUV pick-up
·         1965 LAND ROVER Series IIa
·         1963 CHEVROLET CORVAIR
Later in the year the pair plan to take part in the 2016 Peking to Paris rally in a complwetely open 1916 Cadillac.
The Cadillac, actually found near Stoke on Trent in the UK is slowly coming together but Mike and Edd are confident that its slow revving V8 engine (the first V8 in the Wordl) will get them through the 9,000 miles of terrain, including the extremely inhospitable Mongolain desert.
Comments
Author

Honest John
Latest