Alfa celebrates 65th anniversary of F1 championship win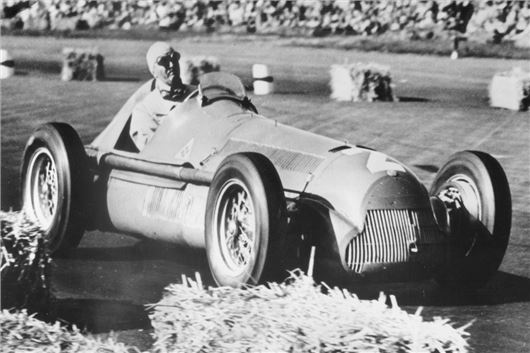 Published 14 May 2015
Sixty-five years ago today, Alfa Romeo created history at the Silverstone race track by winning the first ever Formula One World Championship race.
Although the race series had been running for a while, it wasn't until 1950 that the drivers' championship was finally created and christened Formula One.
While the first F1 race took place in April at Pau, the first champion race was held at the Northamptonshire circuit on 13 May, 1950. Only seven of the 20 races would count towards the championship. 
Four Alfetta 158 race cars competed, with Giuseppe 'Nino' Farina, Luigi Fagioli, Juan Manuel Fangio and British driver Reg Parnell behind the wheel of their respective cars.
Nino Farina not only claimed pole position and the fastest lap of the race, he also won the race outright.
It was pattern that was to continue for the rest of that championship season as the trio of Farina, Fagioli and Fangio dominated race after race.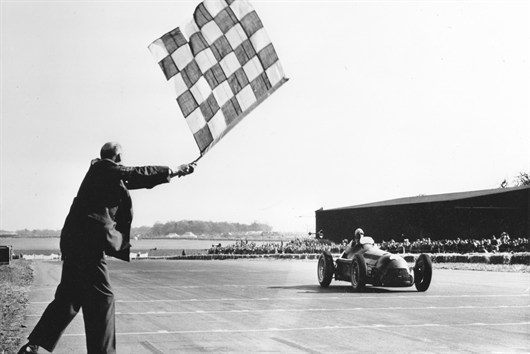 King George VI himself waved the chequered flag to bring the British Grand Prix to a triumphant close for Alfa Romeo.
Farino went on to claim the first Formula One championship in the Alfetta 158, a feat that was repeated the following year by Juan Minuel Fangio.
Originally developed in 1938, the Alfetta had to wait for peace and prosperity to return to the world before it could prove itself on the world motorsport stage.
It evolved from its original 195hp output to nearly 300hp by the time it took the Silverstone racetrack – not bad from a  supercharged, eight-cylinder, 1,479cc inline engine.
Uninhibited by fuel or weight limits, the 158 evolved into the equally dominant 159, with a new two-stage supercharger and numerous other improvements, for the 1951 season. Producing up to 450hp in test trim and 425hp in race specification, it powered Fangio and Alfa Romeo to a second consecutive championship, at which point Alfa Romeo officially retired from racing to concentrate production of its road cars of the time.
Comments
Author

Keith Moody
Latest