Thatcher's bombproof election bus goes on sale for £25,000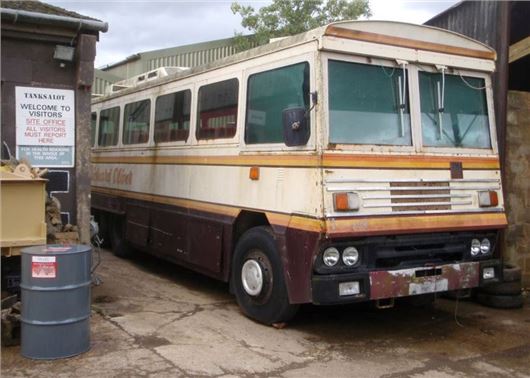 Published 08 April 2015
Margaret Thatcher's 1983 election bus has come to market for £25,000. The bombproof 36-seater is powered by a 12-litre Rolls-Royce diesel engine and weighs around 18 tonnes. Previous owners include the Royal Marines Band and the Met police.
Commissioned for Margret Thatcher and her cabinet for the election trail in 1983, the bus features two-inch thick bulletproof glass and a two foot deep blastproof floor. The battlewagon is also thought to be capable of surviving a chemical attack, with its own air filtration system.
After Thatcher secured her second term in Downing Street, the bus was given to the military and used to transport troops around Northern Ireland. It was then used by the Royal Marines Band during the height of The Troubles, before being given to the Met police.
The bus was bought in 2012 by military vehicle dealer Nick Mead, but has rarely been used. "We've had enquiries from all over the world," said Nick, "It's not looking its best, but it is a piece of history and would restore pretty easily."
Offers in the region of £25,000 are being invited. 
Interested? Call Nick Mead on 01295 768400
Comments
Author

Dan Powell
Latest