For The Love Of Cars restores Rover SD1 police car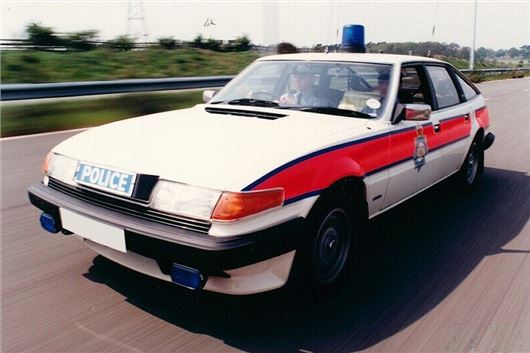 Published 24 April 2015
Sunday's episode of For The Love Of Cars was a cracker - the team tackled a Rover SD1 police car.
Yep, it was a full-on police drama for presenter Philip Glenister – well known for his role as uncompromising and politically incorrect DCI Gene Hunt in the TV series Life on Mars and Ashes to Ashes.
The car itself is an ex-Grampian traffic car in full 'jam sandwich' livery. Specially commissioned by Grampian Police, it is powered by a 3.5-litre V8 that puts out 190bhp.
It was put to work in 1984, policing the then new Stonehaven bypass where its job was to track speeding drivers.
With so much oil money coming into Aberdeen, it wasn't unusual to see Ferraris being put through their paces on the new bypass.
Grampian Police needed a high-speed patrol car to deal with this problem and they ordered a special Vitesse for the job: C356 YST.
Most police SD1s were automatics but the Grampian force commissioned a police specification manual, stripped of the luxuries usually fitted such as electric-windows, electric-sunroof, central-locking and air-conditioning; partly to minimise cost and weight but also to simplify the car and thus improve reliability. 
After leaving the force, it was put into storage before being recomissioned by Glenister's on screen partner, Ant Anstead of Evanta Motors.
Working with SD1 specialists Robsport International in Hertfordshire, the body was stripped down and new metal welded in where needed before being resprayed.
The suspension was rebuilt with new bushes while the brakes and fuel system were also renewed. The engine and gearbox also received some TLC.
All the police features were restored and work: radio (which cannot be used for legal reasons so is not wired up), stop signs, sirens and blue lights were restored and work.
The Grampian Police livery has also been reinstated and the interior trim was in good condition so was given a good clean and refitted.
The car went under the hammer at Coys' Autosport auction at the Birmingham NEC in January earlier this year, where it fetched £11,505.
This episode of For The Love Of Cars first aired on Channel 4 on Sunday, 26 April at 8pm
Comments
Author

Keith Moody
Latest