AA man fixes classic Land Rover... with a potato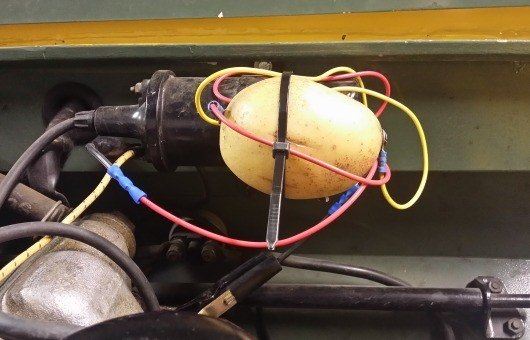 Published 20 February 2015
Cable ties, string, tin foil – they're all an essential part of any classics 'get you home kit' but now it seems we should be adding a potato to our spares stash.
The humble spud was used to repair a classic Land Rover on a farm in Hertfordshire by an AA patrol man.
It seems the off roader had failed to proceed due to a broken condenser – that's the bit that absorbs the voltage spike in an ignition system when the spark at the plug is produced to fire the compressed petrol and air mixture.
North-east London patrol man Mario Papademetriou, 59, didn't have a spare condenser in his tool box so he had to make one.
With the nearest garage 12 miles away, his first attempt involved using tin foil and silicone repair tape. But when that didn't work he had to improvise.
Mario said, 'As the vehicle was on a farm, there were a lot of vegetables around, so I thought I'd try wiring up a potato with a couple of screws to act as a condenser.
'Amazingly, it started instantly, so I followed the member to the garage and he said the vehicle had never driven so well!'
The AA has plenty of experience with classic Land Rovers - they bought their first ones back in 1948 to use on night breakdown work in London. The off-roaders were able to carry more equipment than the motorcycle and sidecar that the AA traditionally used. Plus, the Landies could two a vehicle to safety.
Its not the first time a foodstuff has been used to fix a car. There are many tales of a raw egg being used to seal a car's leaking radiator.
Have YOU ever used food to fix your classic? What's you best 'get you home bodge'? Leave a comment below and tell us about it.
Comments
Author

Keith Moody
Latest