Wheeler Dealers marks its 100th episode in style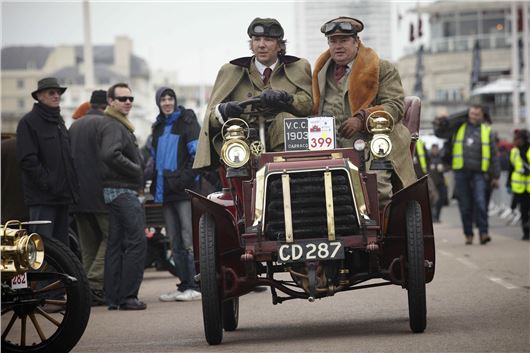 Published 03 October 2014
Popular motoring programme Wheeler Dealers is celebrating its 100th car milestone by reviving a veteran car.
In a special episode to be aired on the Discovery Channel on Monday, 6 October, presenters Mike Brewer and Edd China will bring a 1904 Darracq back to life and then use it for the London to Brighton veteran car run.
And although they managed to complete the 60-mile journey from London's Hyde Park to Madeira Drive on the Sussex shoreline, it wasn't without its challenges.
'It was one huge adventure and makes some great television,' said Brewer. 'At one point on Clayton Hill in the South Downs, both Edd and I ended up running alongside the car in our full Victorian garb as the poor old Darracq's single-cylinder engine struggled up the incline.'
For Brewer, it was a dream come true. 'Right from my early days, I used to stand on Brixton Hill in South London with my parents to watch the crocks go by, so it was fantastic to realise that dream and actually be driving one of those veteran cars.'
The Darracq was on loan from the Haynes International Motor Museum – but it hadn't turned a wheel since its last London to Brighton run 30 years ago.
'It was a huge challenge, but very fitting for us to prepare a car that was more than 100 years old for our 100th programme,' said Brewer. 'You can't simply buy parts off the shelf for these cars, so it needed a huge amount of re-engineering and lots of new skills which we had to learn.
'It was an incredibly steep learning curve for both Edd and me, but the enormous amount of pride we had when crossing the finishing line made everything we'd done very, very worthwhile.'
For more details on how to follow the 2014 Bonhams Veteran Car Run visit www.veterancarrun.com.
Comments
Author

Keith Moody
Latest